BAGHDAD—Extremist board-trick crew Al-J'Aqasse, the Middle East's most prominent Islamic radical snowboard posse, is taking full props for destroying the American embassy when a member nailed a goofyfoot 720 nosehook from a security-barrier railgrind into its offices while carrying 25 kilos of C4 plastic explosives, Thrashzeera magazine reported Tuesday.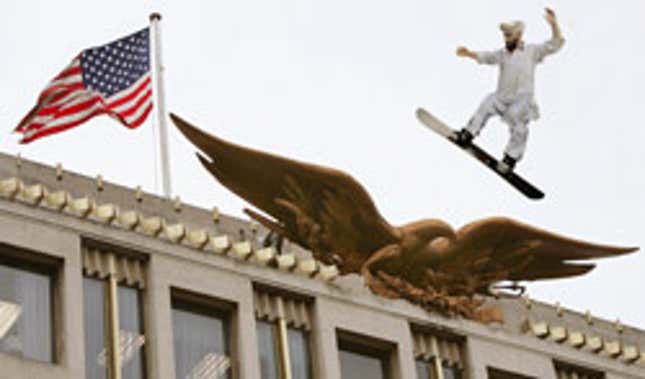 This Week's Most Viral News: September 22, 2023
"In the name of Allah the Merciful, this rad shit is off the hook, yo! Death to the great Satan!" Al-J'Aqasse members shouted in a videotaped, System Of A Down–soundtracked statement posted on the magazine's website, which is denouncing the bombing as "totally sick and twizted."
"Satan! Satan! Satan! Al-J'Aqasse blowing up across the M-E!" one member added.
American security is not certain how Al-J'Aqasse was allowed to build their custom snowpipe-ramp setup across the street from the embassy, but banners and promotional materials scattered across the blast zone point to the involvement of radical, extreme-sports-beverage bottler Sunni Delight.