HAZELWOOD, MO—Twenty-six years after Ronald Reagan first set his controversial fiscal policies into motion, the deceased president's massive tax cuts for the ultrarich at last trickled all the way down to deliver their bounty, in the form of a $10 bonus, to Hazelwood, MO car-wash attendant Frank Kellener.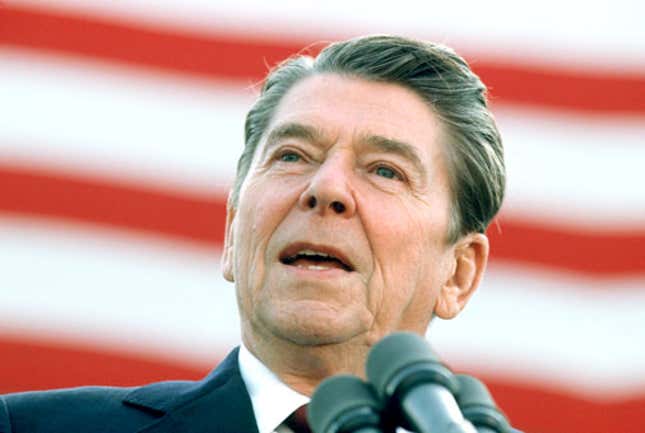 CDC Issues Dire Warning That Nick Cannon Is Feeling Horny
"Back when Reagan was in charge, I didn't think much of him," Kellener, 57, said, holding up two five-dollar bills nearly three decades in the making. "But who would have thought that in 2007 I'd have this extra $10 in my pocket? He may not have lived to see it, but I'm sure President Reagan is up in heaven smiling down on me right now."
Leading economists say Kellener's unexpected windfall provides the first irrefutable proof of the effectiveness of Reagan's so-called supply-side economics, and shows that the former president had "incredible, far-reaching foresight."
"When the tax burden on the upper income brackets is lifted, the rich and not-rich alike all benefit," said Arthur Laffer, who was a former member of Reagan's Economic Policy Advisory Board. "Eventually."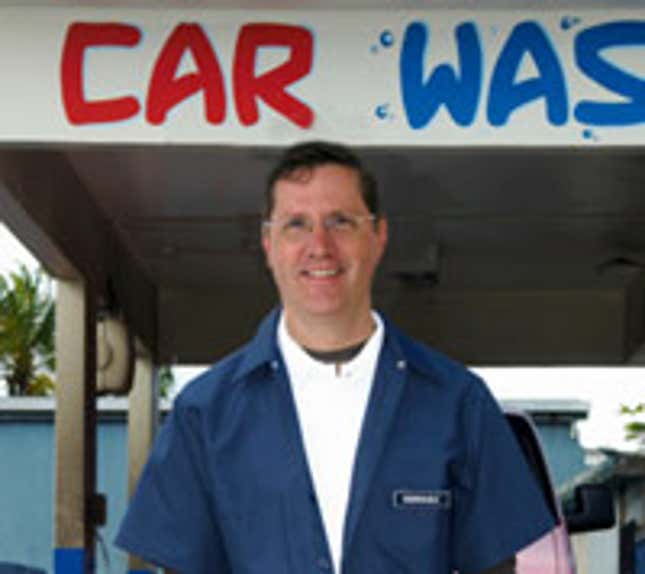 The $10 began its long journey into Kellener's wallet in 1983, when a beefed-up national defense budget of $210 billion enabled the military to purchase advanced warhead-delivery systems from aerospace manufacturer Lockheed. Buoyed by a multimillion-dollar bonus, then-CEO Martin Lawler bought a house on a 5,000-acre plot in Montana. When a forest fire destroyed his home in 1986, Lawler took the federal relief check and invested it in a savings and loan run by a Virginia man named Michael Webber. After Webber's firm collapsed in 1989, and he was indicted on fraud and conspiracy charges, he retained the services of high- powered law firm Rabin & Levy for his defense. After six years and $7 million in legal fees, Webber received only a $250,000 fine, and the defense team went out to celebrate at a Washington, D.C.-area restaurant called Di Forenza. During dinner, lawyer Peter Smith overheard several investment bankers at an adjoining table discussing a hot Internet start-up that was about to go public. Smith took a portion of his earnings from the Webber case and bought several hundred shares in Gadgets.com, quadrupling his investment before selling them four months later. Gadgets.com's two founders used the sudden influx of investment capital to outfit their office with modern Danish furniture, in a sale brokered by the New York gallery Modern Now! in 1998. After the ensuing dot-com bust, Modern Now! was forced out of business, and Sotheby's auction house was put in charge of liquidating its inventory. The commission from that auction enabled auctioneer Mary Schafer to retire to the Ozark region of Missouri in 2006. Last month, while passing through Hazelwood, she took her Audi to Marlin Car Wash, where Kellener was one of the employees who tended to her car. She was so satisfied with the job that she left a $50 tip, which the manager divided among the people working that day.
"This money didn't just affect one life," Laffer said. "It affected five."
Prior to joining Marlin Car Wash in 2005, Kellener worked for nearly two decades at  a  local Ford assembly plant that is now defunct. Before that, he was employed by the FAA as an air traffic controller until his union went on strike and Reagan fired him, along with nearly 13,000 others. This is the largest tip he has received in his professional life.
"I thought Reaganomics was nothing more than a mirage that allowed President Reagan to reward his wealthy support base," Sen. Edward Kennedy (D-MA) said. "But two generations later I am seeing Reaganomics in action, and I like what I see. It just took a little longer than I thought it was supposed to."
The tip has not gone unnoticed by the economic team in the current administration.
"Had Mr. Kellener received that money in 1981, like the Democrats wanted, it would only be worth $4.24 today because of inflation," Treasury Secretary Henry M. Paulson, Jr. said during an official announcement of the economic policy's success at a press conference Monday. "Instead, Kellener has a solid $10 to spend right here and now. The system works, and our current president intends to keep making it work."
Kellener, who has cared for his schizophrenic sister ever since her federally funded mental institution was closed in 1984, said that he plans to donate the full $10 to the Republican presidential candidate who best embodies Reagan's legacy.