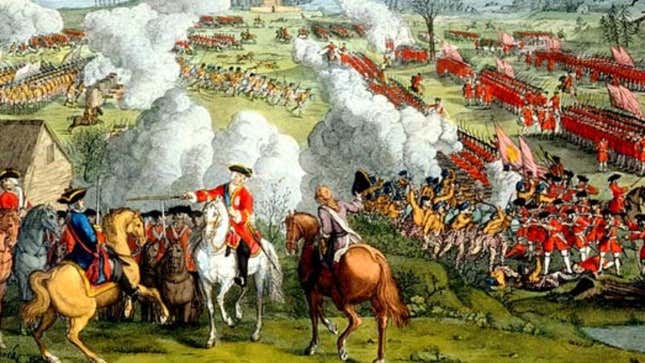 GREAT BROOK FARM STATE PARK, MA—In a surprising development that has confirmed a number of longstanding local rumors, authorities discovered the 32nd Regiment of His Majesty's Royal British Army still fighting the Revolutionary War in a small wooded area outside of Carlisle, MA Monday.
This Week's Most Viral News: September 29, 2023
The disoriented foot soldiers—who in the spring of 1776 survived a barrage of Patriot cannon fire at Dorchester Heights only to become lost during the subsequent British retreat—were found by park rangers marching in the direction of a nearby Price Chopper supermarket.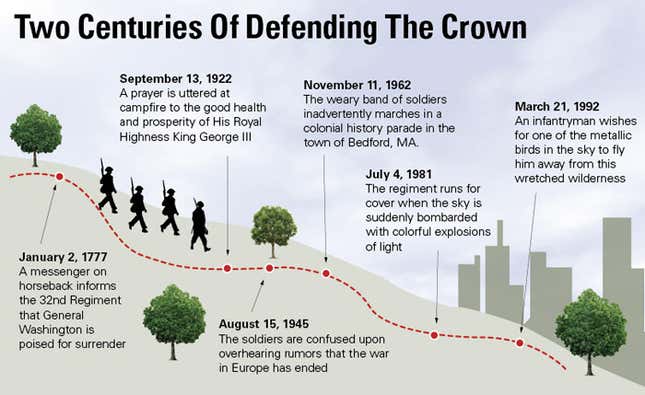 "Keep ye muskets at the ready, men," Col. Edmund Thorpe of Leicestershire was heard shouting to his troops as they prepared to cross an empty stretch of Route 225, which Thorpe claimed was a primary gunpowder supply route. "There is danger in this valley, for the traitorous coward Washington and his militia are said to camp just beyond that ridge."
Area folklore and occasional reports from nearby RV parks have for years suggested the presence of a ragged, hardy band of British soldiers still remaining from the Revolutionary War. But what was once dismissed as legend has now been verified by Walter Carp of the Merrimac Valley Historical Society, who identified the 32nd Regiment after watching its members struggle to scale a razor-wire fence near a local recycling center.
"That's them, all right—the old 32nd," Carp said. "They fought valiantly at Breed's Hill, but they never seemed to have the right coordinates when it came time to track an enemy. Looks like they might be a little worse for wear, the poor fellows."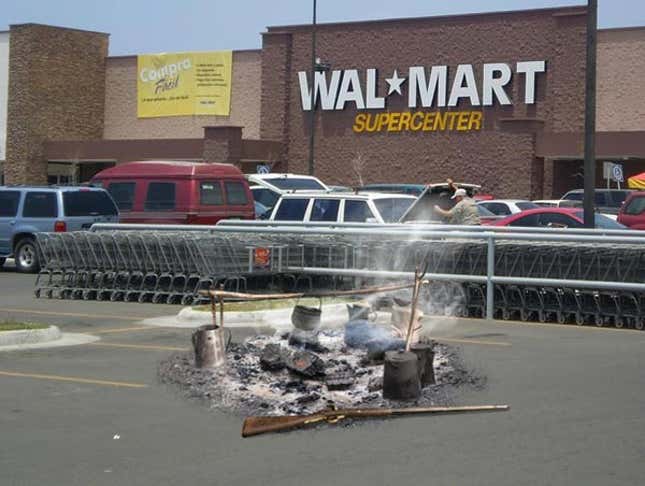 The regiment's last mention in historical records came in March 1776, when the soldiers garrisoned a small fort near the Concord River and awaited orders from Gen. William Howe, then commander in chief of British forces. Though regiment scout James Winthrop reportedly estimates that Howe is no more than 80 kilometers from their location, public records indicate the general has been in London since his burial there in 1814.
"Howe cannot be far," said Winthrop, pointing to a faded map sketched on worn hemp paper. "No more than a fortnight away."
After receiving intelligence on the foreign military unit, the Pentagon immediately dispatched F-15s from the 104th Fighter Wing of the Massachusetts Air National Guard, but the planes were called off after British foreign secretary David Miliband assured officials that the redcoats did not represent the United Kingdom.
While the 32nd Regiment's numbers have dwindled over the past two centuries due to illness and desertion, the remaining holdouts have vowed to continue fighting until the colonists' siege of Boston is repelled. They then plan to rendezvous with the King's 14th Regiment at Fort Ticonderoga, near the current site of the Diamond Run Shopping Mall, to restock on hardtack and tobacco.
"'Tis been a long and bitter struggle with our foolhardy American cousins," 2nd Lt. Henry Bertram said during a brief pipe break near the soccer field of Washington Elementary School. "Dearly do I miss my fair wife, Abigail, and our precious babe, Elizabeth, safe at home in Leicestershire. Why, my daughter must be tall as a barrel by now!"
Having survived the brutal winters of 1831, 1907, and 1999, most members of the regiment appear to believe that the worst stretch of the war is over, and that a full surrender of all colonial militias to the Royal Army is imminent. However, after spotting a number of new outposts last week in the growing Colonial Estates subdivision west of Boston, some have argued that the Americans may in fact be making gains.
"Fie on your childish speculations," said Col. Thorpe, responding to growing concerns in his ranks. "I will not have this regiment torn asunder by such cowardly prattle. Somewhere in the Province of Massachusetts Bay there is a loyal countryman in whose farmhouse we can tarry for a night. Once rested, we shall strike a final blow to the treasonous Yankees."
Added Thorpe, "By God, the jewel of the His Majesty's crown shan't be lost!"
The last reported sighting of the 32nd Regiment occurred in January, when a number of Carlisle locals claimed to have seen the redcoats loitering in or around their backyards.
"I saw some old guys in funny costumes messing around near my toolshed about a month ago," said Bay State Electronics Supply employee Jim Hicks, 45. "But when I flicked on the porch lights they ran back into the woods."
Local law enforcement officials said the soldiers are now considered suspects in a string of unsolved garden burglaries that began in 1838, as well as in the 2003 deaths of five Revolutionary War reenactors near Lowell, MA.
The Centers for Disease Control is investigating whether the regiment may also be responsible for the recent deaths of several thousand New England residents from smallpox.