NEW ORLEANS—Saints running back and former Heisman Trophy winner Reggie Bush refuted charges Monday that he accepted gifts, money, and other benefits exceeding $100,000 in value while playing football for the University of Southern California, claiming he earned that money "fair and square through constant hard work" at various on-campus work-study jobs.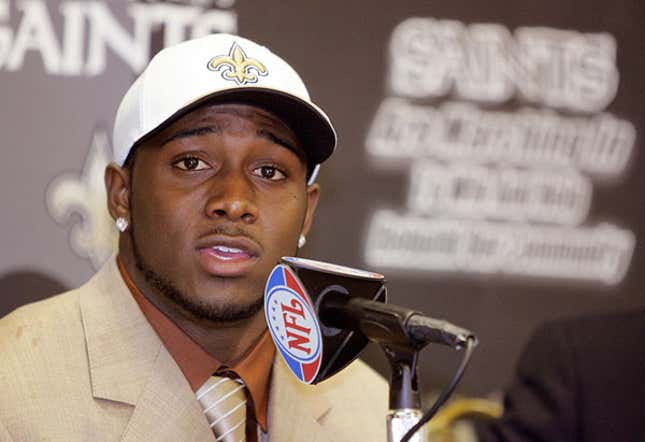 Study Finds LSD Highly Effective At Ruining Nephew's Baptism
"During my time at USC, I managed not only to carry a full 12-unit course load every semester while playing Division I football, but I also worked as many as 15 simultaneous work-study jobs that allowed me the opportunity to provide food, clothing, and shelter for my family with a little spending money left over," Bush said, reading from a prepared statement at the Saints training facility. Bush also added that, on average, the university's work-study jobs paid $6.50 an hour. "I did not, I repeat, did not earn a dime for my play on the field."
Bush added: "I used the same focus, intensity, and relentless effort to shelve over 450,000 books as a librarian's assistant at the East Asian Library, Gerontology Library, and Hoose Library Of Philosophy that I did to help lead the Trojans to the 2004 national championship."
According to Bush, the librarian's assistant jobs, along with transporting television sets, DVD players, and overhead projectors across the campus for the school's audio-visual department, allowed Bush to purchase new suits for his stepfather and brother, a makeover for his mother, and limousine service to and from the Downtown Athletic Club for his Heisman Trophy ceremony.
"Whenever I would show a clip and the sound wouldn't work, it was always Reggie who would sprint the 40 yards from the audio-visual center in 4.2 seconds flat," said history professor Niles Langford. "And since I'm a real dumbbell with these electronics, believe me, he earned his money."
Bush said that he was able to purchase a 45-inch high-definition flat-screen television, rent his posh downtown apartment, and buy his friends the newest pair of Air Jordans by "working [his] butt off at the Carl's Jr. in the student union, taking lecture notes for disabled students six times a week, and working the Sunday-morning shift as a security guard at Trojan Hall."
"Reggie paid strict attention to those who entered and exited the dorm, making sure the guest policy was upheld and honored," said dorm supervisor Alex Valinsky. "Under his watch, nearly 17,000 guest violations were recorded."
"Easily a school record," Valinsky added. "Better even than O.J.'s work guarding faculty parking."
In addition, Bush said he worked after football practice from midnight until 5 a.m. for USC's Campus Cruiser Program, in which students who were out late and fearful of their general safety could call Bush's brand-new Motorola Razr cellular phone and be driven back to their dormitories in Bush's 2005 Cadillac Escalade with headrest television monitors.
"He was always very kind, polite, and never asked any embarrassing questions about what we had been doing," said USC junior Rebecca Meuthing, adding that in each of the nearly 1,160 times he escorted her home, Bush waited outside the dormitory listening to the newest rap CDs until he was sure she got in safely. "Sometimes we talked about football, but he mostly talked about how, after he dropped me off, he had to get to his work-study job entering grades into the USC School of Architecture database."
The money from that particular job, Bush insists, went a long way in providing his relatives with round-trip airfare so they could watch him compete on game day.
The biggest charge against Bush—the question of his family's ability to move from their small San Diego apartment to a $757,000 home in Spring Valley during Bush's junior year—could, according to Bush, be explained by his "cushy" job in the Student Activities Office, which Bush admits was "pretty easy," saying he "literally did nothing for $11 an hour."
"When I find the shoebox with all of my time sheets and pay stubs, I will be vindicated of any wrongdoing," Bush's statement concluded. "Unfortunately, most of these hundreds of boxes seem to contain new pairs of shoes, but they have to turn up sooner or later."
Trojans head coach Pete Carroll, who took reporters' questions as an opportunity to praise his former running back's "impeccable work ethic," said he was unaware the running back was making so much money, adding that he assumed the Hummer limousine in which Bush arrived at practice every day was simply provided by his agent.