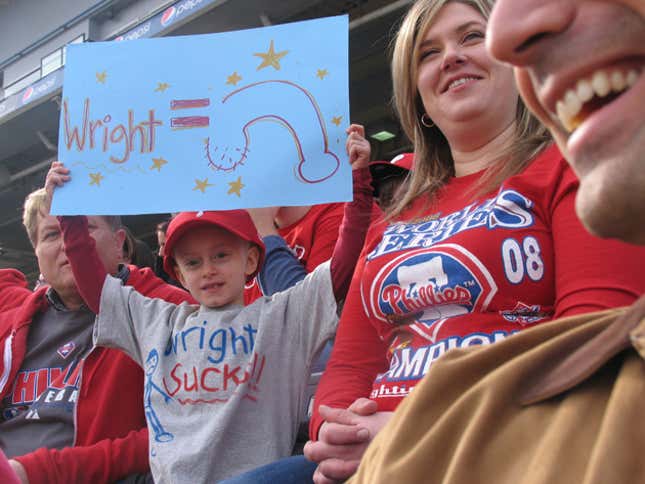 Allison Pencey was profiled in the Wish Zone this week, a young Phillies fan whose burning hatred for and inspired heckling of Mets 3B David Wright kept her alive far longer than her terminal cancer should have allowed. It says something of her heart and drive that she died booing a Mets fan in her ward, collapsing both her lungs. That she used the ventilator to suck her last gasps of air and expel them telling the young Met fan to "go fuck himself with Santana's cock" says more than any blog post ever could.
CDC Issues Dire Warning That Nick Cannon Is Feeling Horny
Allison's day at the ballpark was pure magic. Her parents beamed as she yelled non-stop for three hours straight, foaming at the mouth and lashing spittle all over the stadium. Everything her parents bought for her ended up on the field, from hot dogs and popcorn to a commemorative bobblehead that Allison scraped against the cement floor assiduously thoroughly the game to sharpen it to a point and wing perilously close to Wright's head. Allison led the crowd in obscene chants about Wright's mother, questioned his sexuality and made lewd gestures suggesting Wright engages in sexual relations with various pieces of baseball equipment.
And now, she has been cut down, long before her time. It is up to we all, her fans, and loved ones and admirers, to carry on her legacy. If you see David Wright, whether it's on TV or a baseball card or in person at a game, think of him as Allison did: as a pretty boy cocksucker with a noodle arm who deserves to die of cancer like her.
Rest in peace, Allison. Give God the finger for us.