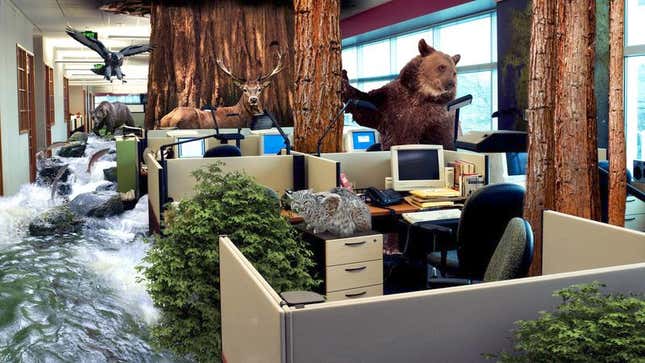 SACRAMENTO, CA—Officials at Yosemite National Park confirmed Friday that in an effort to accommodate necessary renovations and expedite routine maintenance, the entirety of the park's breathtaking wilderness has been temporarily relocated to a Sacramento office space.
This Week's Most Viral News: September 22, 2023
Earlier this week, Yosemite employees said, they transferred thousands of lakes, 1,600 miles of streams, colossal stretches of old-growth forest, 250 species of vertebrates, Bridalveil Fall, and countless granite crags to a 3,000-square-foot commercial office space in the local North Pointe Business Center, where they've since been busy settling into their new workplace.
"It's a tighter space than we're used to, but it's a sacrifice we're glad to make if it means we'll eventually have a nicer park," said Yosemite superintendent Don Neubacher, who spearheaded the process of moving the sprawling populations of unhampered flora and fauna into the makeshift office. "Besides, we've got two whole floors to ourselves, and for the most part it's been business as usual around here."
"Sure, the herd animals are used to roaming across a larger expanse of terrain, but we feel the open-floor office plan we have here is really working to their advantage," he added.
Neubacher acknowledged that the new environs had been an adjustment for many of the animals, noting, for example, that the park's marmots initially seemed upset about having to share a cubicle with its black bears. But before long, he said, the marmots had burrowed down into a recycling bin to hibernate, and the bears had discovered the kitchenette, where they ripped the door off the refrigerator and devoured everything inside.
There are other inconveniences: Space constraints reportedly forced employees to move a number of the park's larger mountains and river systems into off-site storage units, and most of Yosemite's astonishing diversity of plant life is now confined to pots lining the windows of workspaces.
On top of that, sources stated, the 1,900-year-old giant sequoia tree in the office's reception area requires almost constant watering.
"We're making do," Yosemite ranger Jess Rymer said as she shooed a family of pine martens away from the photocopier. "Space is at a premium, and sometimes that means the conference room gets double-booked, or the city gets on our case because a massive protrusion of igneous rock is blocking a fire exit and our sprinkler system can't keep up with the controlled burns we have to conduct as part of our forest management program."
"But luckily, the building's owners have been very accommodating," she continued. "They were totally cool when we needed to store Glacier Point in the lobby for a while until we got our furniture arranged."
According to sources, the park's presence in the office complex has been hard to ignore, with the forces of nature—whether it's the vast alpine woodlands in the mailroom or a terrified owl stuck in the revolving doors—occasionally intruding on public spaces.
But even if from time to time they open the door of a restroom stall and are startled by the sight of a cougar tearing into the belly of a bighorn sheep, Yosemite's fellow tenants told reporters they don't generally mind.
"Every once in a while you'll show up to find a towering geologic formation in your parking space, but overall, Yosemite National Park isn't bad to have around," said Graham Martin, an analyst at a neighboring brokerage firm. "The mule deer are always very polite. And I'm on the same schedule as this one breathtaking gorge; we're always bumping into each other in the elevator."
Despite the fact that they'll have to find a way to accommodate the several hundred thousand campers, hikers, and rock climbers expected to visit their Sacramento office between now and Memorial Day, when renovations on their permanent location are complete, Yosemite officials said they believe selecting a temporary office will have been the right choice.
"It'll do," said Superintendent Neubacher, speaking softly so as not to disturb a pit of king snakes in his desk drawer. "It has to. Our only other option is to work from home."