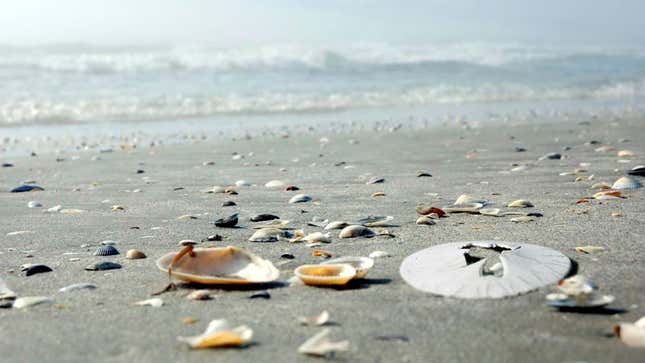 CORAL GABLES, FL—According to a report released Monday by a group of environmental researchers, all the good seashells worth picking up and bringing home have already been taken, a development that threatens the very future of shell collection regionally.
Edgelords Explain Why They Love Elon Musk
Data obtained from numerous walks along the beach revealed that where once resided an abundance of good shells more than ideal for crafts or souvenirs, there now exist nothing more than shells totally unsuitable for even the most basic purposes of the hobbyist.
"Frankly, the only seashells left are of the most inferior quality, in terms of both aesthetic appeal and structural integrity," said University of Miami researcher Paul Irizarry, gesturing to a display table upon which rested a blotchy cockleshell, a sun-bleached conch with several large chips in its crown, and an array of clamshell fragments. "Anything you might want to thread onto a necklace, string up as wind chimes, or polish and place on the corner of your desk no longer exists."
"We saw one that looked really good at first, but then we turned it over and saw it had a huge crack running along the bottom of it," Irizarry added. "I think we just tossed it in the ocean or something."
While Irizarry and his colleagues did manage to find several lustrous rocks with interesting markings, some halfway decent driftwood, and one or two fully intact sand dollars, report coauthor Marianne Coates said those ancillary discoveries failed to offset the shocking absence of any good seashells.
"None of this changes the fact that the good shells are gone and there's nothing left but blemished, fractured, and just plain weird-looking ones," said Coates, adding that the research team was very briefly excited by what was later determined to be a child's partially buried flip-flop. "This should serve as a wake-up call to anyone who cares about good seashells and doesn't want their children's beachcombing experience to consist solely of finding a nicely preserved horseshoe crab every once in a blue moon."
"But it's probably too late," Coates added. "Seriously, we were out there looking around for hours."
When pressed, however, Coates acknowledged there might be enough bits of good shell left to be assembled into a serviceable mosaic.
Coates told reporters that she suspected most of the satisfactory shells had been stripped away by aunts with nearby beach houses, while the remainder had been picked up by 14-year-olds with few, if any, friends.
"The good shells have clearly been overcollected," Coates said. "There used to be so many, and we just assumed they'd be around forever."
"You'd think we would have learned our lesson when all the good pinecones disappeared," Coates added.