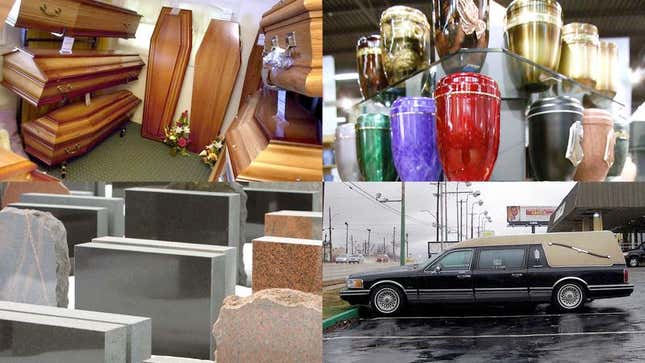 NEW YORK—Describing it as a burgeoning growth sector that will drive the American economy for decades to come, an encouraging new report out Thursday estimates that burying and cremating the baby boomer generation will add some $200 trillion to the nation's gross domestic product over the next 30 years.
CDC Issues Dire Warning That Nick Cannon Is Feeling Horny
The report from research firm Moody's Analytics claimed the impending deaths of the 76 million Americans born between 1946 and 1964 would spur a long, robust period of expansion, single-handedly pulling the country out of its current economic malaise and fueling a dramatic increase in wages and standards of living as the nation mobilizes its workforce to dispose of the age group's remains.
"With so many people dying at once, the funeral industry is poised to surpass the technology and biomedical sectors and become the engine that propels our economy forward," said economist Gerald Lang, explaining that as more and more boomers die, casket and urn manufacturers will rapidly scale up production and open scores of vast new facilities to meet the surge in demand for their goods. "We can expect job creation to skyrocket as millions are put to work building the mortuaries, mausoleums, and high-powered furnaces we'll so desperately need. And with every single baby boomer eventually needing to be transported to a morgue, autopsied, and properly discarded, we'll see unemployment drop to near record lows."
"In short, the unprecedented baby boom that followed World War II is about to provide us with an equally valuable corpse boom," he added. "And that's welcome news for the average American's wallet."
Forecasts suggest that the expansion in mortuary services will be akin to the growth of tech startups in recent decades, and that coastal Florida is well positioned to become an industrial hub on par with Silicon Valley, likely serving as the chief headquarters for major Fortune 500 body bag manufacturers and headstone companies. Already, profit-minded speculators are reportedly driving up land prices to record levels in Fort Lauderdale, where thousands of condominiums will need to be razed to make room for enough cemetery plots for millions of soon-to-be dead baby boomers.
According to the report, today's younger generations are set to enjoy marked increases in economic opportunity and annual income as their parents and grandparents die off. Hundreds of billions of dollars are set to be infused into local economies, experts stated, as a wave of prosperity flows across the country from sympathy card producers, to candlemakers, all the way down to manufacturers of easels that hold large portraits at memorial services.
The report also affirmed that the entire U.S. economy must recalibrate to meet the challenges of the death-industry-based economy of tomorrow. In particular, the report's authors noted that chemical companies will need to repurpose their facilities to generate the 200 million gallons of embalming fluid baby boomers are expected to absorb by 2035, while the engraving industry would have to add an estimated 4 million workers to ensure the required amount of granite grave markers are properly buffed and inscribed with the names and death dates of the deceased masses.
Additionally, economists stated that ailing U.S. automakers would see a huge boost in business, with the Big Three car manufacturers reactivating dozens of long-idled plants to keep pace with the explosion in demand for hearses.
"Investors should definitely keep an eye on crematory futures­—that's where the smart money is," said market analyst Margaret Hughes, who predicted that facilities for the incineration of human remains will soon be on every block in urban shopping districts. "And young people would be well advised to pursue careers as coroners or undertakers. When baby boomers depart, they're going to leave behind an entire generation of mortician millionaires."
"Frankly, anyone who knows a thing or two about floral arrangements will be vaulted into the upper class in this new economy," she added.
Explaining that the sooner they die, the sooner the "golden age of economic prosperity" will arrive, the report pointed to encouraging data on baby boomers' high rates of cardiovascular disease, Type 2 diabetes, and Alzheimer's, all of which are expected to help accelerate economic growth to levels unseen since the digital revolution.
While many observers have said the new era of affluence can't arrive fast enough, others remain more cautious, asking what will happen a few decades from now when most of the boomers have been buried, and the so-called casket towns expected to pop up all across the country see their single source of revenue dry up.
"Sure, it'll be a huge windfall at first, whether you're churning out coffins, dark-colored suits, floral wreaths, statues of grieving angels, tiny American flags, or those black pillbox hats with netted veils," said James Keeley, 37, a small business owner in Cleveland. "But after my parents die, and all their friends die, and we complete the monumental task of getting rid of all the bodies and ashes, what happens then?"
"As much of an economic boon as the baby boomers' deaths will be, we can't depend on their dead bodies always being there for us," he added. "If we're prudent, we should already start preparing for a future without their mortal remains."