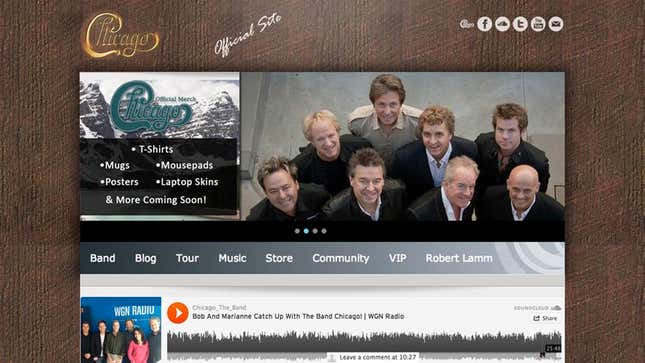 SAN FRANCISCO—With its massive and fiercely loyal user base, ChicagoTheBand.com—the official Internet home of the American music group Chicago—remains the most frequently visited website in the world, tech industry experts confirmed Wednesday.
This Week's Most Viral News: June 9, 2023
ChicagoTheBand.com, which features breaking news, song information, and tour dates for the nine-piece brass-inflected soft rock combo, reportedly draws upwards of 2.5 billion daily pageviews, easily making it the most popular online resource of the modern internet era.
"As far as sheer web traffic is concerned, there's only one name that matters right now, and that's ChicagoTheBand.com," said Dave Sherfesee, president of web analytics firm Alexa, which estimated that the internet powerhouse charts more unique visitors than second-tier sites Facebook and Google combined. "Every second of every day, tens of thousands of visitors click on one of its pages, whether it's the band's blog or its discography, and no other website can match that volume of activity. It's not even close, frankly."
"In fact, our data indicates there are currently 1.32 million ChicagoTheBand.com message board users fervently debating whether 'Hard To Say I'm Sorry' or 'You're The Inspiration' is the band's definitive ballad," Sherfesee continued. "And that's just one of 200,000 active comment threads."
According to reports, ChicagoTheBand.com operates a 10,000-square-foot warehouse full of high-bandwidth servers maintained by approximately 140 full-time web developers and engineers who work in shifts to ensure uninterrupted access for the website's legions of users.
Analysts stated that at any given moment, approximately 10 million individuals are reading through the biographies of such beloved band members as Robert Lamm and James Pankow, 8 million visitors are listening or relistening to the website's one-minute-and-19-second sample of the timeless rocker "25 Or 6 To 4," and 35 million VIP members are watching an array of exclusive behind-the-scenes videos available only in the site's $19-per-year "Premium Access" section.
Additionally, ChicagoTheBand.com's online store, which offers Chicago-branded T-shirts, mugs, and mousepads, is said to draw more than 4 million customers per day and generate approximately $175 million in daily sales, a revenue stream approached only by online retail stalwart Amazon.
Such impressive numbers can be attributed to the loyal, almost fanatical nature of ChicagoTheBand.com's visitors, who explained that the website plays an integral role in their day-to-day lives.
"First thing every morning I visit ChicagoTheBand.com, check my email, glance at Facebook, and then quickly head back to ChicagoTheBand.com to see if there have been any updates," said Philadelphia resident Jessica Carville, 32, who like most Americans maintains a presence within the website's fan network, known as "Chicago The Band Music Community." "I would say that between hanging out in the chat room, viewing the latest clips of the guys in the studio, or sending birthday wishes to Peter Cetera, I spend a good two hours on there every day."
"And of course, whenever I'm away from my computer, I'm constantly checking the official ChicagoTheBand.com mobile app on my phone," Carville added.
The site's broad-based appeal reportedly cuts across age, race, class, and gender to reach every demographic group in the United States, and its advertising rates far outstrip those of would-be competitors like YouTube and Yahoo. However, executives at ChicagoTheBand.com told reporters the site's true strength lies in its formidable global reach, with citizens from all 196 countries in the world routinely flocking to the site.
"You have to realize that as users in New York and Washington check ChicagoTheBand.com one last time before turning in for the night, folks in Bucharest and Tehran are just waking up, so our traffic never slows," said ChicagoTheBand.com president and CEO Curtis Hartley, who noted that the website is now available in more than 300 languages and regional dialects. "It's a challenge to keep up, but we have a responsibility to reach all these people."
Members of the Grammy Award–winning band have expressed their pleasure at having found such a welcoming home on the internet.
"Yeah, I hear the website's really taking off," trumpeter Lee Loughnane said. "That's great. Chicago's got the best fans in the whole world, and I'm happy to see that they're working to keep the music alive."
"And, hey, make sure to catch us at Proctor's Theatre in Schenectady next Wednesday," Loughnane added. "It's going to be a real good show."