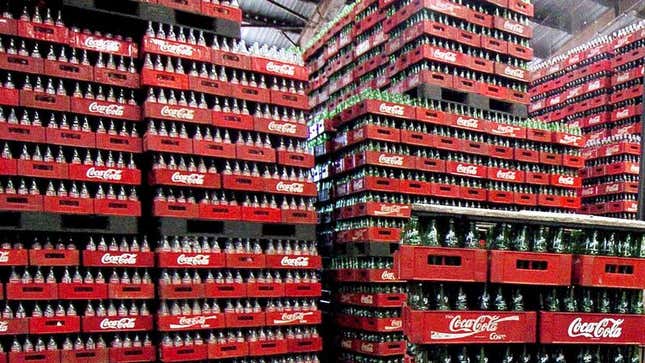 CORVALLIS, OR—Fueling humanitarian concerns over the vital resource's scarcity in many parts of the world, a report published Wednesday by researchers at Oregon State University has found that 68 percent of the earth's supply of potable water is trapped in Coca-Cola products.
Edgelords Explain Why They Love Elon Musk
According to top experts, the new report marks the first comprehensive attempt to measure the planet's freshwater reserves and determine exactly how much of it is currently locked inside sources such as Coke, Diet Coke, Caffeine-Free Coke, Dr. Pepper, Barq's root beer, and other Coca-Cola beverages, making it impossible to use as drinking water, or for bathing or cooking.
"Less than 3 percent of the earth's water is fresh, and of that, more than two-thirds exists in the form of Coke products incapable of serving any human need," said the report's lead author, Samer Ghosh, adding that the amount of freshwater that's not trapped in the brand's line of colas has been steadily declining for years. "There are vast, untapped quantities of potable water within these sodas, and they can be found in heavy concentrations throughout the world's grocery stores, vending machines, and home refrigerators. Unfortunately, though, we have no way of extracting it."
"Our own country has enough water in its Vanilla Coke Zero to fill Lake Michigan, but in its current state that water is useless to us," he added.
"By harnessing the freshwater that exists inside these remarkably abundant beverages, we could more than double access to safe drinking sources worldwide."
Researchers confirmed the 7.2 million cubic kilometers of water confined within Coca-Cola beverages are unsuitable for most personal and household purposes because they are too compromised by various chemicals and acidic compounds. While scientists have attempted for years to distill quality drinking water from samples of Powerade and Full Throttle energy drinks, no one has successfully purified these or any other Coke products of the ingredients contaminating their valuable H20 molecules.
In a landmark 1995 study, a team of hydrologists at the University of Arizona is said to have successfully removed the carbonation from original-formula Coca-Cola Classic by opening a can of the beverage and leaving it out overnight, but experts confirmed that, since that time, little progress has been made in removing the visible impurities from the product.
"By harnessing the freshwater that exists inside these remarkably abundant beverages, we could more than double access to safe drinking sources worldwide," said Ghosh, observing that soft drinks manufactured by Coca-Cola are present all across the globe, even in places where lakes, rivers, and aquifers have run dry. "We're devoting all the resources we can toward developing an adequate filtration process that can turn Cherry Coke and Fresca into clean drinking water, but we have a long way to go."
"So far, our best attempts at filtering Coca-Cola have only left us with the same brown, strong-smelling liquid that can under no circumstances be used to sustain life," he continued.
The new report indicates that Coca-Cola reserves are especially plentiful in North America, where they exist in thousands of 64-ounce reservoirs that can be found at points along major roadways and within population centers. Additionally, researchers discovered that in South America, nearly 30 percent of freshwater is locked up in orange Fanta, while 26 percent of clean water in Japan has been rendered completely inaccessible inside green-tea-flavored Coke.
In an examination of the ongoing drought in California, the report concludes that if it can one day be tapped, the potable water contained within the supply of Sprite in Los Angeles alone will meet the needs of the entire state for years to come.
The call for investment in Coke-filtration technologies is perhaps strongest in developing nations, where populations awash in the cola often face shortages of clean water. Yasinta Kusila, a Tanzania resident and mother of three, told reporters she walks 10 miles each day past numerous containers filled with Coke to obtain the water she needs for cooking and to ensure her family has enough to drink.
"Water here is scarce, but everywhere you look there's Coca-Cola," Kusila said. "It's so demoralizing to know that there is good, clean water in there, but there's no way to get it out. Do you have any idea what that's like for a mother just trying to provide for her children?"
"It's so close, and there's so very much of it," she added, "but what good does it do anyone?"