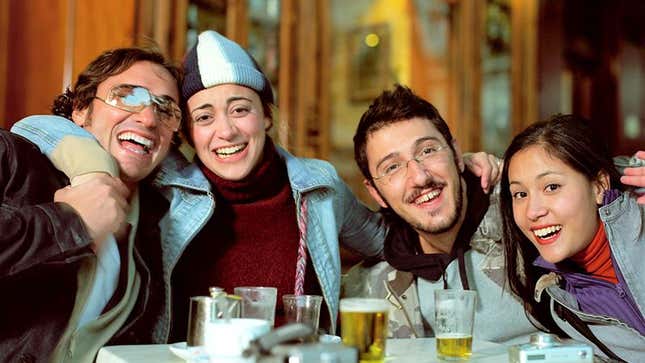 WASHINGTON—According to a report published this week by the U.S. Department of Education, an increasing number of universities now offer dick-around abroad programs that give students the chance to hang out and do jack shit in another country.
Worst Mistakes All Brides Make On Their Wedding Day
Once only available through a small number of liberal arts colleges, dick-around abroad programs, which seek to immerse students in a foreign environment ideal for screwing off, can now be found in more than half of all American schools.
"Taking time to go fuck around abroad has become essential to a well-rounded education," said New York University dean of student affairs Christina White. "We urge all our students to pick a program that's right for them, whether it's six weeks dicking around in the Spanish countryside, or six months sticking your thumb as far up your ass as you possibly can in Japan or South Korea."
"The chance to spend every night partying in pretty much the same way they would have at home is an experience they'll never forget," White continued.
While the tradition of dicking around abroad can be traced back to a medieval European university system that encouraged putzing off in other cultures, the practice didn't become common in the United States until the 1970s, when an entire generation began pursuing higher education and looking for ways to do fuck-all. Today, educators said, many students won't even apply to a school that doesn't provide programs that allow them to take bong hits in major world cities for academic credit.
"I've dicked around in France and Australia," said Lehigh University senior Christie Oden, a psychology major who spent last spring in the school's popular Holy Shit, Melbourne Is Laid Back program. "I tell everyone I know: Definitely dick around abroad if you get the chance. It's the best thing I did in college."
For students like Oden, who are seeking opportunities to waste enormous amounts of time in a specific field, some schools offer specialized programs for dicking around abroad. Engineering majors at MIT, for example, can spend a semester in a drunken haze at the school's Munich location, while juniors studying art history at Northwestern University may sign up for a year of yanking their puds in the museums of Paris.
But it's not just Americans who are interested in an international education: The Department of Education has also seen a steep rise in the number of foreign students taking buckle-down-and-succeed programs here in the U.S.
According to the report, applications for IIT Bombay's Spend Every Waking Second Making the Most of Your Education Abroad program are up 30 percent since 2009, while in the past decade enrollment in Peking University's Get an American Ph.D., Don't Draw Too Much Attention, and Report Back for Duty program has nearly tripled.