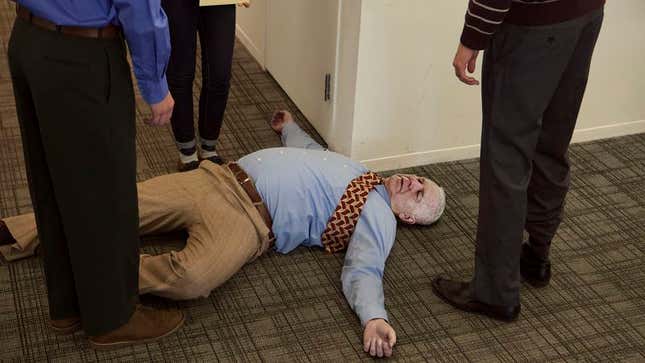 WASHINGTON—Noting that the end-of-life trend has become increasingly prevalent in recent decades, a report released Friday by the U.S. Census Bureau revealed that a growing number of elderly citizens are now dying surrounded by their coworkers.
According to the report, tens of thousands of American men and women in their 70s, 80s, and even 90s are passing away in office and retail workplaces every year, typically with their longtime professional colleagues and supervisors gathered around them at their cubicles or sales counters.
"We found that more senior citizens than ever are spending their final moments in the company of supportive coworkers while splayed on their conference room floor or slumped against the side of a photocopier," said the report's lead author, Claire Gardner, noting that several hundred elderly Americans perish from heart attacks or pulmonary embolisms while stocking shelves or delivering PowerPoint presentations each workday, up sharply from just a generation ago. "Nowadays, it's not at all uncommon for individuals to die with any number of fellow cashiers, landscapers, administrative assistants, bank tellers, or medical billing technicians close by, with many individuals even clinging to life until coworkers from departments on the other side of the office are able to come to their side and pay their last respects."
"In fact, many elderly people who collapse on the assembly line or sales floor are dying in the presence of their closest associates and shift leaders," she continued. "For many, it's a comfort to be surrounded by those with whom they've spent so much of their golden years."
Survey results also indicated that an increasing number of office workers and service employees have held their geriatric colleagues' hands or joined them in reciting the Lord's Prayer after they abruptly collapsed during an eight-hour data entry session, while working their second shift on the phone banks at a customer support call center, or as they wiped down tables in a budget-friendly casual dining chain restaurant.
Many of these individuals told reporters they were glad to be able to provide warmth and relief to their dying colleagues as they succumbed to a stroke or the effects of a chronic illness, citing numerous instances in which the entire staff was sitting around the same break room kitchenette table when an elderly coworker drew her last breath during her federally mandated 10-minute break.
"We were all in the housewares aisle yesterday when Evelyn slipped away from us toward the end of her morning shift," said Flagstaff, AZ Kmart inventory clerk Elliott Davis, 54. "It was really touching to be with her as she said her final goodbyes—especially because I missed being by Iris' side last week when she passed on over by sporting goods. It's always tragic, but at least when they pass away, they get to be with the people they worked with nearly every day. That is, until [manager] Alec [Peters] comes over and reminds us we have to get back to unloading the trucks."
"It's just comforting to know that, when my time comes, I'll have everyone here in the stockroom by my side, too," he added.