NORFOLK, VA—Pre-traumatic stress disorder, a future-combat-related psychological condition previously thought to afflict only young soldiers drafted against their will, is now found in growing numbers among National Guard members, Army, Navy, Marine, and Air Force reservists, semi-retired officers, and the newly recruited, according to a government study released Monday.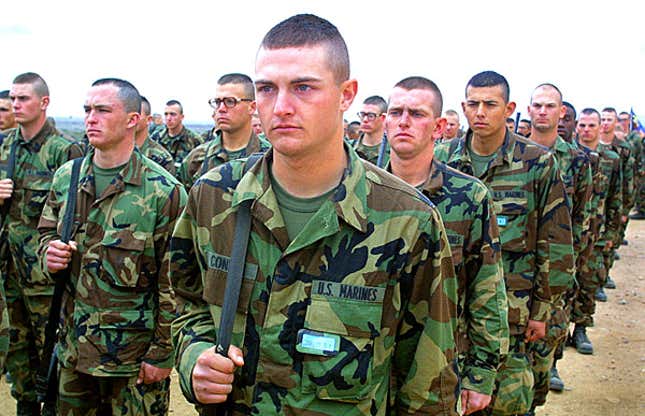 Study Finds LSD Highly Effective At Ruining Nephew's Baptism
"When soldiers are put in the extreme situation of facing the possibility of large-scale death and shocking violence, many experience sleeplessness and outbursts of anger," said Walter Reed Army Hospital psychologist Capt. Sidney Mullenthauer. "We're seeing more victims experience vivid, ultra-realistic flash-forwards of roadside bombings that tear through a group of innocent children, or rocket attacks on their convoys that leave fellow soldiers charred and smoldering."
"Many of these poor souls are forced to prelive, over and over again, a landmine blowing their legs off, or large pieces of shrapnel becoming lodged in the sides of fellow soldiers' faces," he added.
Army Pfc. Henry Gerard, 19, who suffers from acute Pre-TSD, said he blames the federal government for putting him in this mentally debilitating state.
"The government knows exactly what they intend to put me through, and they still haven't done a damn thing about it, man," said Gerard, who, nearly three weeks before reporting to Fallujah, suffers from nightmares in which his potential best friend is beheaded. "I can't sleep, I can't eat, my hands constantly shake. I'm going to a place where people I don't even know will try to kill me. What the fuck?"
"I'm not the same man I once was," Gerard said, adding that he spends every night drinking to drown out the screams and cries for help he expects to hear. "War is going to be hell."
The study, conducted by the Department Of Future Veterans Affairs, found that 80 percent of part-time soldiers reported no signs of Pre-TSD while carrying out their obligatory one weekend of duty a month, but quickly developed severe symptoms upon receiving orders for active combat.
"This is also the first time we have observed both pre- and post-traumatic stress disorders occurring simultaneously," said Mullenthauer, who explained that the phenomenon is found most often among reservists who have returned home after completing their tour of duty and before being called up for an extra assignment.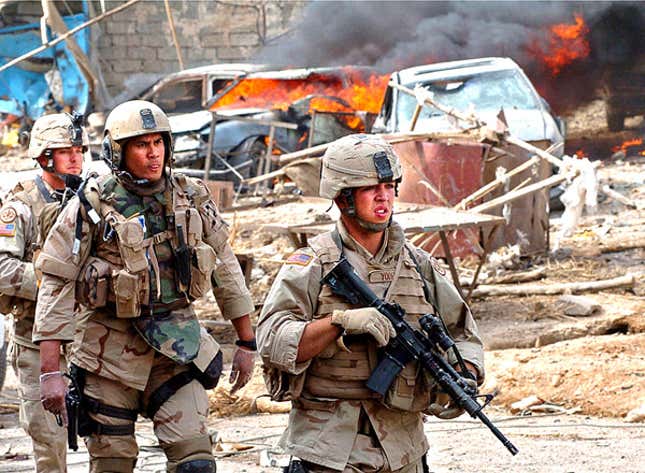 Researchers said the disorder can be brought on by the thought of holding a lifeless body in one's hands, the unshakable sense of dread accompanying an imagined nighttime ambush, and the stress of realizing one will spend 18 to 24 months in a foreign land thousands of miles from home in which death or severe injury seem all but inevitable.
In addition, a significant number of those who will enter a war zone say they are plagued by repeated visions of atrocities, torture, and the CNN logo.
One reservist, who has chosen to take the disease head-on by reporting to Iraq on his scheduled date, is Pvt. Franklin Mitchell, 31, husband and father of two. According to Mitchell's wife, Marian Mitchell, her husband's Pre-TSD was brought on by the proto-memories of being taken hostage.
"At first, of course, he was excited to get some money for college to study computer programming," Mitchell said. "But when he came home after learning he was going to Iraq, he broke into a cold sweat and grew extremely depressed remembering how he will eventually have to shoot and kill another human being at close range."
Researchers have recently identified new segments of the population also considered to be at risk for Pre-TSD, including parents of children approaching military age, Iraqi citizens, and any person who watches more than three hours of television news per day.