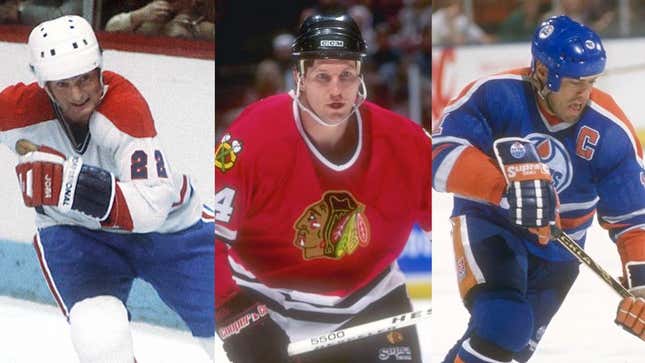 NEW YORK—In the wake of NBA center Jason Collins and U.S. soccer midfielder Robbie Rogers coming out as homosexual, reports revealed Friday that the National Hockey League has in fact had hundreds of openly gay athletes throughout its history.
Edgelords Explain Why They Love Elon Musk
Sources confirmed that gay players have actually been incredibly common in the NHL for decades, and the league is only now being credited with laying the groundwork for the growing acceptance of homosexuality in professional sports.
"It's obviously a watershed moment when a player from the NBA announces he's gay, but most people forget about Montreal Canadiens winger Steve Shutt, who came out back in 1972," said hockey historian Hank Crerand, noting that Shutt was the first of many gay NHL players to reveal their homosexuality. "Even though gay athletes still carry a stigma today, it's nothing compared to the '70s. The likes of Shutt and Gordie Howe faced not only vitriol and discrimination from fans and the media, but also their own teammates and coaches."
"The issue of gay athletes has now reached a major turning point, and it's only a matter of time before someone in the NFL or MLB comes out," Crerand continued. "But the idea that a player would not need to hide his sexual orientation from the public—and indeed be proud of it—was very much pioneered by the NHL."
Since its original inception in 1917 through to the "Original 6" era of the '40s, '50s, and '60s, the NHL has reportedly had a long history of gay players and was far ahead of its time in combating prejudice and intolerance toward homosexuality within locker rooms and stadiums.
"Things really started to take a turn for the better when Mike Eruzione became the first openly gay captain of an Olympic hockey team to win a gold medal, leading the U.S. to victory over the Soviet Union during the famous 1980 'Miracle On Ice' final," explained Crerand. "I still remember everyone's total shock during Eruzione's emotional embrace with his boyfriend Ken [Morrow] on the ice after the game."
"That kiss really changed a lot of attitudes within the hockey community," Crerand added.
Bob Probert, who played 16 seasons for the Detroit Red Wings and Chicago Blackhawks, reportedly had a huge impact on the league as hockey's "Homo Enforcer," intimidating the competition and pummeling opponents with vicious punches. Crerand told reporters that Probert was the "most feared queer" in the NHL and transformed the perception that a homosexual hockey player couldn't be a gay goon.
Crerand stressed, however, that no athlete was more influential to the gay rights movement than Wayne Gretzky, widely regarded as the greatest gay player in NHL history.
"In arguably the most seminal press conference the sport has ever seen, Wayne Gretzky delivered his iconic 'This Is Who I Am' speech right after winning his first Stanley Cup with the Edmonton Oilers in 1984," said Crerand, adding that within the following decade Mark Messier, Patrick Roy, and Claude Lemieux followed Gretzky's lead. "Number 99 completely changed the landscape for gay athletes in the NHL, especially commercially, and no one had a greater impact on young gay hockey players around the world. And that is, of course, why the gay community nicknamed him 'The Great One.'"
Reports confirmed that Gretzky blazed the trail for current NHL stars Sidney Crosby, Alex Ovechkin, Patrick Kane, Henrik Zetterberg, Evgeni Malkin, Jonathan Quick, Pavel Datsyuk, Ryan Suter, Paul Stastny, Martin St. Louis, Rick Nash, Ryan Miller, Patrik Elias, Stephen Gionta, Clarke MacArthur, Patrick Dwyer, Mike Rupp, Carey Price, Dustin Brown, Zbynek Michalek, Brad Richards, Derek Dorsett, Brian Boyle, David Krejci, Shea Weber, Derick Brassard, Sergei Gonchar, Braden Holtby, Brandon Dubinsky, Stephane Robidas, Colin Greening, James Reimer, Kevin Poulin, Brandon Prust, Travis Hamonic, Martin Brodeur, Joakim Andersson, Vincent Lecavalier, Josh Green, Daniel Alfredsson, Joe Thornton, Arron Asham, Alexander Steen, Michael Del Zotto, Patrice Bergeron, Matt Duchene, Teddy Purcell, Michael Ryder, Tomas Fleischmann, Lars Eller, Daniel Winnik, Jyri Niemi, Mikhail Grigorenko, Evander Kane, David Backes, Jiri Tlusty, Sam Gagner, David Desharnais, Cody Franson, Steve Ott, Dustin Byfuglien, Casey Cizikas, Daniel Sedin, Brian Campbell, Ilya Kovalchuk, Chris Neil, Patrick Sharp, Jaromir Jagr, Hal Gill, Mark Giordano, Marc-Andre Fleury, Ray Whitney, Mike Cammalleri, Lee Stempniak, James van Riemsdyk, Martin Hanzal, David Clarkson, Vinny Prospal, Taylor Hall, Ryan Getzlaf, Andrew Ladd, Alexander Semin, Max Pacioretty, Brenden Dillon, Jonathan Toews, Jordan Eberle, Marian Hossa, Frans Nielsen, Alex Galchenyuk, Bobby Ryan, Manny Malhotra, Mike Fisher, Bryan Little, Nail Yakupov, Patrick Marleau, Jonathan Huberdeau, Tyler Ennis, Craig Anderson, Saku Koivu, Shane Doan, Ryan White, Blake Wheeler, Evgeni Nabokov, Mark Fraser, Jeff Carter, Nicklas Backstrom, Michael Grabner, Brendan Gallagher, Tomas Plekanec, John Tavares, Taylor Pyatt, Alex Burrows, Rene Bourque, Jason Chimera, Joffrey Lupul, Corey Perry, Brad Stuart, Justin Williams, Matt Cullen, Marian Gaborik, Patrik Berglund, Brian Elliott, Josh Harding, Daniel Cleary, Roberto Luongo, Nazem Kadri, Zach Parise, Eric Staal, Jordan Staal, Marc Staal, Jared Staal, Steven Stamkos, and Ryan Kesler all coming out as gay in recent years.
According to experts, the league's progressive stance toward homosexuality also paved the way for the 2013 Philadelphia Flyers, the only professional sports roster in history to be comprised entirely of gay players.
"It's nice to see the rest of the sports world beginning to catch up to the NHL when it comes to gay tolerance," said ESPN hockey analyst Barry Melrose, himself openly gay since the early 1990s. "A lot of credit also has to go to Gary Bettman, still the only openly homosexual commissioner of a North American sports league."
"But without a doubt, none of this would have been possible without the unbelievable altruism and open-mindedness of the NHL fan base," added Melrose, "It's far easier for players to be truly comfortable in their own skin knowing so many fans are gay too."