NEW YORK—According to several sources in the coaching and management levels of the New York Knicks basketball team, Knicks President Isiah Thomas has "no coherent plan or strategy of any kind" to remove the Knicks from the long series of defeats they have suffered since Thomas began his tenure in late 2003.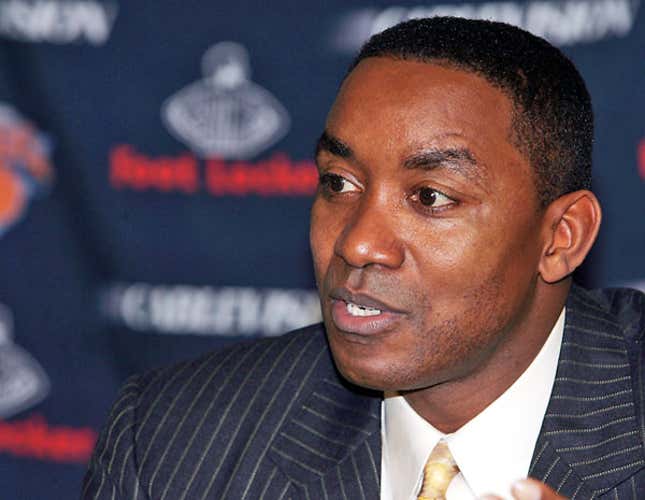 Study Finds LSD Highly Effective At Ruining Nephew's Baptism
"People are reluctant to use the word 'quagmire' around here, but let's face it: The Knicks are suffering defeat after defeat at the hands of intractable opponents who keep coming back with renewed resolve," said Larry Brown, who is recovering from injuries received as a direct result of struggling to coach the Knicks. "Perhaps the worst part is the diminishing support we're getting at home. And yet, the president is staying the course… I don't know how long he thinks this can go on."
Brown, who contends that Thomas did not give him "the tools and support to complete the mission," is expecting to be fired as Knicks head coach before the week is out.
When Thomas assumed the presidency of one of the most storied franchises in sports, he did so with flair, trading for and signing some of the top stars in the business. However, coming off a 23-59 season in which he was repeatedly criticized by many of his own top people, it is becoming apparent that the president has no intention of changing the way he conducts operations.
"We are engaged in a battle with people who hate our team and our way of playing basketball," Thomas said in an interview Tuesday. "We cannot afford to second-guess ourselves. You are either with the New York Knicks or you are against them."
While Thomas' hard-nosed style still enjoys its share of supporters among the old guard, polls of Knicks fans show his approval rating has dipped below 30 percent, the lowest ever recorded for a sitting NBA president.
Meanwhile, morale on the front lines, once a point of pride, continues to deteriorate.
"Face it—calls for our president to step down for the good of all are going to start any minute," said Stephon Marbury, a one-time supporter of Thomas' aggressive policies whose enthusiasm has waned as the Knicks became even more bogged down. "We're suffering losses here that are just unacceptable. Guys are talking about not re-enlisting for another campaign, and believe me, this is not a team that can afford to lose any more experienced personnel."
"We need guys here who can show strong defense, who can take the shot, and most of all, who believe in the mission," Steve Francis said. "What we're seeing are guys who just want to go home."
Some critics are even calling for Thomas to pull all of his people out of harm's way in the NBA and into a league where they can be safe.
"Two years and millions of dollars down the drain, God knows how many lives wasted, and for what?" said a Knicks executive who asked not to be named. "Some of the best strategic and organizational minds in the business are telling him to get out of there, and yet he insists on staying the course. I can't imagine this sort of irresponsible—no, suicidal—leadership being tolerated anywhere else."