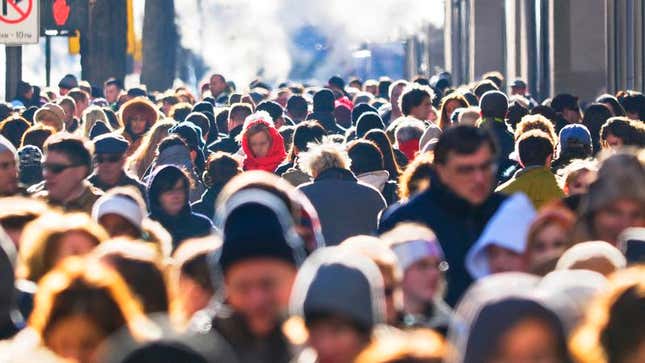 WASHINGTON—While experts agree you've been remarkably successful so far at keeping up the ruse that you're a capable, worthwhile individual, a new report out this week indicates that today is the day they finally figure out you're a complete and utter fraud.
This Week's Most Viral News: September 22, 2023
The report, compiled by the Pew Research Center, states that sometime within the next 24 hours, people will find out that you have no idea what you're doing, that you've been faking it for years, and that, through continuous lying and shameless posturing, you've actually managed to dupe virtually everyone around you into thinking you're something other than a weak and ineffectual person.
They've had their suspicions all along, sources said, but today their suspicions will be confirmed.
"Though you've somehow gotten this far in life without anyone discovering you're not what you pretend to be, it's all about to come crashing down, and not a minute too soon, to be frank," reads the report, which goes on to note that you don't deserve anything you have—not your job, not your relationship, not even your parents' love—and you know it. "You're incompetent, you're petty, you're vain, you're barely keeping it together beneath that confident exterior you project, and your little charade is just about over."
"They're all on to you," the report continues. "You do understand that, don't you?"
Your boss and coworkers will realize today that you are completely unqualified for your current occupation, experts confirmed. Already, they are reportedly starting to sense that you've just been skating by—pretending to know what you're talking about, as if you actually possess any kind of real or meaningful skills—and that you're far more of a liability to the company than you've ever been an asset.
Several experts also noted that any potential employer in your future will immediately recognize that your entire career has been a sham, that you more or less bluffed your way through school, and that you're unfit for any task beyond menial labor.
According to the report, the people you are closest to, from friends to family to your romantic partner, will find out today that you've merely been impersonating someone who deserves to be in their lives—piecing together just enough lies about yourself to trick them into thinking you're a genuine, understanding person.
In addition to everyone you've ever met knowing you're a huge imposter, even strangers on the street will know, the report stated, in most cases simply by looking at you.
"People will soon surmise that you're just a feeble, self-obsessed loser, scraping by from day to day and hoping not to get found out, and you know what? They're right," reads another section of the report. "The pathetic deceit that lies at the very core of your being, that defines you, that is you won't be a secret much longer, because the rest of the world is going to figure out what your parents have known all along: You're a big fucking joke."
"On some level, deep down, you knew this day had to come," the report concludes. "And now it has."
At press time, sources confirmed that here we go: You can see it in their eyes. They know. They all know. Every last one of them absolutely knows. And you deserve every bit of scorn and rejection that is coming your way.