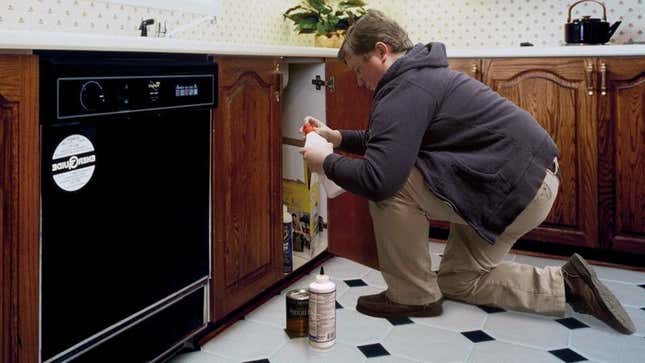 WASHINGTON—Confirming that U.S. students' competency in the area of knowledge had only increased in recent years, a Pew Research Center report published Tuesday found that young Americans continue to lead the world in their awareness of which household items will give you a buzz.
Study Finds LSD Highly Effective At Ruining Nephew's Baptism
The worldwide survey of 13-to-18-year-olds found that other developed countries trail significantly behind the United States when it comes to understanding how to get completely ripped on products commonly found under a kitchen sink, on a workbench in the garage, or in a stepparent's bathroom.
"On other measures of learning, pupils in China and South Korea routinely outstrip their U.S. counterparts, but that's simply not the case on assessments of their familiarity with huffable cleaning agents and solvents," said report co-author Megan Harvey, noting that by the eighth grade, the average American knows which specific brands of wood glue, nail polish, or felt-tip marker you can buy and sniff to get blitzed out of your mind. "Whether their information comes from the internet or an older student who has allegedly tried it, teens in this country learn far more about which inhalants will totally mess them up, and they learn it much sooner."
"And in terms of developing the higher-level skills required to enhance a high by smearing lip balm on their eyelids, American secondary students are five times more advanced than their closest international peers," she added.
According to the Pew survey, 23 percent of high school sophomores in the United States were able to tell researchers how huffing different air freshener scents gives you totally different buzzes, 57 percent could specify which fruit rinds or nutshells can be smoked to make you black out for a few seconds, and a full 76 percent could identify which products on a given hardware store shelf will eff you up completely and give you a weird copper taste in the back of your mouth.
Meanwhile, the report discovered that in almost all of Asia and nearly three quarters of Europe, students complete their years of formal education without ever learning that spraying certain aerosols into a balloon, inhaling all the aerosol gas from the balloon in one go, and then holding their breath for as long as they can will make them see some really weird shit for a few minutes..
"By American standards, the average 18-year-old in Finland doesn't even understand huffing, sniffing, and bagging at a sixth-grade level," said Harvey, observing that U.S. students were among the only respondents surveyed who could explain how to remove the nitrous oxide from a whipped-cream charger. "But in the United States, the average teenager can describe exactly how to get all effed up by taking a hit from a compressed-gas computer duster or putting your face in a paper bag coated with hairspray."
"Furthermore, our children surpass every other country in their knowledge of which household items will give you a blinding headache, which cause all these weird red spots to show up at the edge of your vision, and which will just kind of make you sleepy," she continued.
Researchers suspect part of the reason U.S. schools maintained their first-place ranking is that nearly all of them have at least one burnout sitting in the cafeteria who can tell students how to roll rubber cement into a ball, light it up, and then inhale that shit, a valuable source of information largely unavailable in other parts of the world.
"I've heard about this kid at another school who totally freaked out after eating a bunch of nutmeg in the bathroom between classes," said Spenser McLean, a 15-year-old high school freshman from Phoenix quoted in the study, displaying a level of knowledge about getting completely bombed that far surpassed that of his peers throughout the world. "It's pretty much the same thing as peyote. You start smelling things that aren't there."
"A couple of us are going to try it next month during our class camping trip," McLean added.
According to researchers, U.S. students also lead the world in their awareness of liquor stores a few towns away that don't check I.D. if you have a beard.