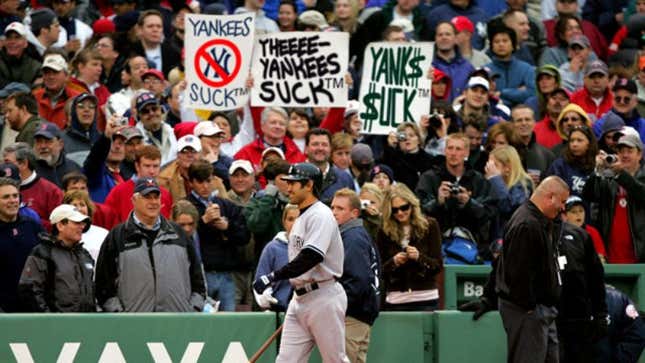 TAMPA, FL—New York Yankees team ownership revealed Tuesday that the phrase "Yankees suck," one of the most popular chants in sports, was trademarked by the 27-time World Series champions prior to the 1996 season, a business strategy that has earned the team close to $100 billion over the past 13 years.
Demand Grows For Stricter Transit Regulations After Derailing Train Hits Airplane At 30,000 Feet
U.S. Patent and Trademark Office records show that every time an individual chants, shouts, or writes the words "Yankees suck," the New York Yankees organization earns at least $2.15, an amount that escalates depending on repetition, volume, and whether the phrase was used during a national broadcast.
"If you multiply that $2 by 13 years of chants, hundreds of sellout games in opposing teams' stadiums, and the hundreds of millions of people who hate the Yankees, you can see that this was a brilliant financial tactic," Yankees managing general partner Hal Steinbrenner said during a televised press conference at the team's spring training facility. "Where do you think we get the money to keep Mariano Rivera here? Or sign a bust like Carl Pavano without making the slightest dent in our bank account?"
"You know what? Why don't you all join me in a 'Yankees suck' chant right now. Come on, you know you want to," Steinbrenner added. "Yankees suck! Yankees suck! Yankees suck! That's another $9 million right there."
Steinbrenner later told reporters that plans to trademark the phrase in 1996 were part of a long-term strategy. Team management was keenly aware that the Yankees would be a World Series contender that year, and with the emergence of Derek Jeter and a roster that included veterans like Paul O'Neill, baseball fans were certain to be chanting "Yankees suck" in droves.
Furthermore, financial records indicate that by also owning the rights to the common anti-Yankee epithet "Jeter blows," the team earned much of the money needed to sign Alex Rodriguez in 2004. In addition, by creating and obtaining the trademarks to the phrases "A-Roid," "A-Fraud," and "Jeter sucks, A-Rod swallows," as well as acquiring partial intellectual property rights to the concept that "All the Yankees are overpaid assholes who make it virtually impossible for smaller-market teams to compete," the team has accumulated a fiscal safety net that is estimated to last until 2210.
General Manager Brian Cashman told reporters that baseball fans who muttered "Yankees suck" to themselves while on the grounds of major-league ballparks during the second half of the 2007 season alone essentially funded the team's new $1.2 billion stadium.
"Owning the 'Yankees suck' property is the best thing that ever happened to this organization," Cashman said. "CC Sabathia and Mark Teixeira were both signed with 'Yankees suck' money. And people who said 'Yankees suck' over the course of our 2000 World Series run helped foot the bill for executive bonuses and the organization's annual Christmas party. To be honest, I actually can't remember the last time we had to dip into our funds from merchandising, broadcast rights, or ticket sales."
Cashman said "Yankees suck" was a year-round moneymaker for the organization, providing an endless revenue stream that stems not only from chants during the regular season and playoffs, but also from offhanded remarks made during casual conversations among friends, and from people yelling the phrase at public events that have nothing to do with the Yankees.
"Every wedding season we earn a few million dollars from people who shout our trademarked 'Yankees suck' chants during their receptions," Cashman added. "That's the equivalent of a decent bat in the DH spot or a high-quality reliever."
The organization also has reason to be optimistic about the future of "Yankees suck" revenue: Accountants project that, as the Internet and cable television bring the team into millions more homes across the globe, there could soon come a time when the Yankees are told they suck three times a second on every continent.
"Interactive media is the next wave," Cashman said. "With our upcoming mobile phone apps and web integration, we'll soon be able to charge millions more people for using 'Yankees suck' in the privacy of their daily lives."
When asked why the team would reveal to the public how much it earns from various anti-Yankee cheers, team sources said there is actually more money to be made from people knowing about their strategy.
"We are banking on the fact that this will make everyone detest the Yankees even more, which would be a real windfall for us," said co-owner Hank Steinbrenner, smirking broadly. "In the end, we just want to say one thing to those who have openly expressed their hatred for this organization over the years: Thank you."
Thus far, his prediction is proving correct, as very few people have shown an ability to muzzle their feelings for the Yankees.
"Fuck the Yankees," said Boston resident and Red Sox season-ticket holder George Donaldson, who in the last month has lost the funds necessary to buy groceries and pay his mortgage while the Yankees earned the money they will need to lure Jason Bay away from the Red Sox and bring in high-caliber starting pitchers Cliff Lee and Roy Halladay. "Fuck them right in the ass."