WASHINGTON—Citing a mutually shared vision of health care in America, congressional Republicans and the deadly bone-marrow cancer leukemia announced a joint effort Wednesday to repeal the Patient Protection and Affordable Care Act, the historic new bill that extends health benefits to 32 million Americans nationwide.
"Republicans have no greater ally in this fight than leukemia," said Sen. Jim DeMint (R-SC), who was flanked by Sen. Mitch McConnell (R-KY), House Minority Leader John Boehner (R-OH), and the abnormal increase in white blood cells. "Denying insurance to Americans with preexisting conditions and ensuring that low-income Americans stand no chance of receiving quality health care are just a few of the core beliefs that the GOP and leukemia share."
"And believe me, if anyone is angrier than the Republican Party that children can no longer be denied coverage for having preexisting conditions, it's leukemia." DeMint continued. "We're a match made in heaven."
In the coming weeks, Republicans and leukemia will travel the country in an effort to diminish support for the increasingly popular bill, which GOP sources said goes against everything that Republicans and the massive accumulation of toxic cells stand for.
G/O Media may get a commission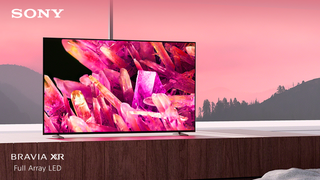 $400 off
Sony 55 Inch 4K Ultra HD TV X90K Series
According to party leaders, all forms of the deadly blood disorder, including T-cell prolymphocytic leukemia, hairy cell leukemia, and large granular lymphocytic leukemia will lend their support to the Republican effort.
"I look around and I see Sen. Bob Bennett, Sen. Saxby Chambliss, eosinophilic and megakaryoblastic leukemia, and Sen. Pat Roberts, and I think, 'This is what the Republican Party is all about,'" Sen. McConnell said. "We don't like this new bill. We don't like that it will cut the national deficit by $1.3 trillion over the next 20 years. We don't like that it's now illegal for insurance companies to suddenly drop a parent for getting deathly ill. That's why we're so very proud to be working with leukemia."
While chronic leukemia was reportedly worried about how its association with the Republican Party would affect its public image, the destructive pathogen was ultimately swayed by language in the final bill that offers small business owners tax incentives to provide health care to their employees.
"Getting chronic on board was key," one Republican strategist said. "It made it politically viable for acute [leukemia] to join the repeal the effort."
A longtime ally of the Republican Party, leukemia also supported GOP efforts to stop President Bill Clinton from passing sweeping health care reform in 1994. A decade later it endorsed President George W. Bush's Medicare legislation, which effectively forced many senior citizens to pay full cost for prescription drugs. And in 1971 it supported President Richard Nixon's escalation of the Vietnam War into Laos.
"Leukemia has always been a disease that veers to the right," said Newsweek columnist Ezra Klein, adding that Republicans have also sought out the support of high-profile illnesses such as sickle-cell anemia, type 1 diabetes, and sepsis. "And at the end of the day, you can't ignore the fact that this deadly blood disorder has a lot to lose if the bill succeeds."
Thus far, Republicans and leukemia are confident that the bill will be repealed.
"In 2010 leukemia and the Republican Party will make history," a spokesman for the illness said. "Because years from now, when people look back and ask who was on the right side of the issue, they'll remember the day that Republicans and leukemia came together to make a real, permanent difference in the lives of millions of Americans."