'Look, This Is All We've Got,' Labor Secretary Tells Nation's Jobless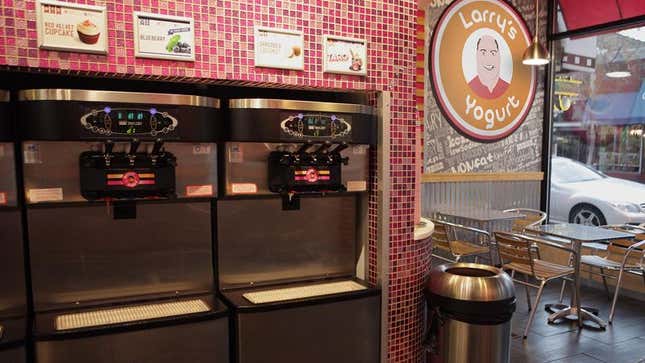 104-Year-Old Man Awarded WWII Medal Just To Be Nice
WASHINGTON—Admitting their agency has exhausted every other viable option for putting jobless Americans back to work, resigned officials from the U.S. Department of Labor announced plans Thursday to try giving every unemployed citizen a self-serve frozen yogurt shop to own and operate.
Labor Secretary Thomas Perez claimed the department's previous efforts, including unemployment benefits and occupational training programs, had failed to significantly improve the nation's job market over the past six years, and stated that their new yogurt-based initiative was, at this point, the best way to help those who remain out of work. Perez, who repeatedly stressed that the plan was "worth a try," said his agency will disburse yogurt dispensers, cash register scales, small tasting spoons, and vacant storefront and mall kiosk locations to millions of jobless Americans in the hope that selling frozen yogurt will finally help them earn a steady paycheck.
"In the coming weeks, every jobless man and woman in the United States will receive the necessary supplies and equipment to open and independently manage their own frozen yogurt—or 'fro-yo'— store," said Perez, who explained to anyone who was unfamiliar that frozen yogurt was "like soft serve only healthier," but still "tasted just as good," all factors that he said would work in the new shop owners' favor. "The U.S. Labor Department will provide the unemployed with the four basic flavors of chocolate, vanilla, strawberry, and banana, as well as a few sleeves of 8- and 12-ounce cups. Based on how popular yogurt seems to be right now, we believe these new store owners will be able to make a decent wage, thereby reducing jobless claims while also stimulating the broader U.S. economy."
"That's the idea, at least," he continued. "To clarify, this yogurt thing is pretty much all we've got left in the tank, so let's just give it a shot, all right?"
Perez argued that the program will provide an attractive opportunity for the nation's roughly 10 million jobless individuals to get back on their feet, pointing out to assembled reporters that he sees frozen yogurt stores everywhere these days and that it seems like there are always people in them.
The cabinet member added that the business model also appears to be pretty cut-and-dried from what the Labor Department could tell, as customers portion out their own serving of the frozen dairy product, and all the manager really has to do is wipe down the machines and order more powdered yogurt mix when it runs low.
While the measure will reportedly supply the nation's jobless citizens with such toppings as chopped nuts and rainbow sprinkles, Perez noted that these individuals would be required to pay out of pocket for other, more expensive add-ons such as kiwi slices, Heath bar crumbles, caramel, and any variety of gummy animals, as well as such premium flavors as strawberry cheesecake or mint. The Labor Secretary claimed, however, that this added variety could provide store owners an opportunity to distinguish themselves from the estimated 22,000 existing yogurt shops in the country as well as the impending influx of millions of new competitors in the coming weeks.
"If the nation's unemployed want to put up a big sign, or maybe decorate their stores with some kind of colorful tropical theme, that also might bring in some extra foot traffic," said Perez, adding that giving out punch cards in which the patron receives a free junior-size yogurt after buying eight regular yogurts would be particularly helpful in markets such as Detroit and Stockton, CA, where owners will be competing against dozens of other yogurt shops within a several-block radius. "You could maybe sell smoothies, too; people like those. You'd have to get your own blender, though. We won't supply that."
"And you can name your store whatever you want: Jenny's Yogurt, The Yogurt Hut, um, Cincinnati Yogurt, uh…" he continued. "Great Yogurt, maybe. I don't know."
Though Perez conceded that the marketplace might take a while to adjust to the presence of tens of thousands of frozen yogurt sellers in every major U.S. city, he expressed optimism that things would work out all right as long as the American people make a concerted effort to buy a lot of yogurt and yogurt gift cards.
"All these new yogurt places will need tables and hot fudge pumps and probably some teal or pink aprons for the employees and things like that, so I bet this could really get the manufacturing industry going," said Perez, noting that his office hadn't yet run the numbers on everything, but that the whole idea "makes a lot of sense" to him. "That way, even if some of these stores go under, at least the owners can go work in the factories that make napkin dispensers and waffle cones and stuff. Right?"
"I guess we'll find out soon enough," he added, shrugging.