NEW YORK—Promising to cover the event responsibly and with the kind of delicate restraint it deserves, the nation's cable news outlets announced Monday that while they would be devoting some airtime to the 10th anniversary of 9/11, they "certainly wouldn't be going overboard with it."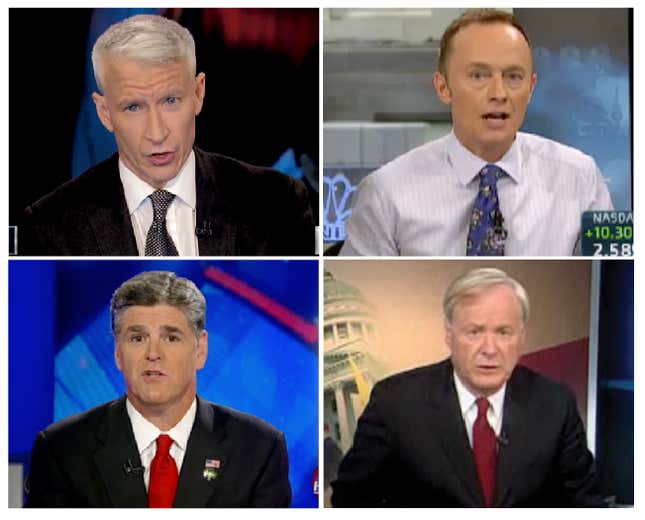 Ingenious Forms Of Birth Control Used In Ancient Times
According to the news providers, they only intend to devote 15 minutes of coverage to the anniversary, tops, saying it is their obligation as professional journalists to do justice to the victims' memories as opposed to using the occasion for their own ratings gain.
In addition, network representatives admitted it would be lazy news reporting to use the 10th anniversary of the terrorist attacks as an excuse to fill up hundreds of hours of programming with repetitive video packages and anchors repeatedly asking their guests, "How did 9/11 change America?"
"We're planning to send one reporter to Ground Zero, have him tape a couple of two-minute segments, nothing too crazy, and that should pretty much do it," said CNN's senior vice president of programming Katherine Green, adding that the 24-hour news channel would not be making 9/11 the focus of every single program on the network because, according to Green, "What more is there to say, really?" "We'll also briefly check in with Anderson Cooper at the Pentagon, and that will be the only time we hear from him during the entirety of our coverage."
G/O Media may get a commission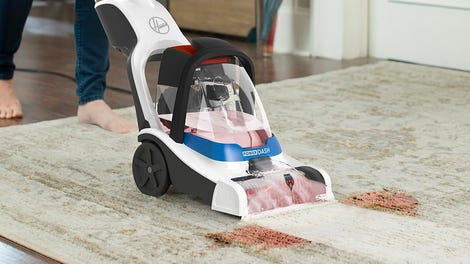 26% Off
Hoover PowerDash Pet Compact Carpet Cleaner
"Then our plan is to do what other American cable news providers presumably will be doing," she added. "We'll go back to reporting that never panders to viewers, but instead challenges them and forces them to step outside their own bubble by making them aware of all the truly newsworthy events happening in the world."
Along with Green, representatives from MSNBC, CNBC, HLN, and Fox News immediately ruled out doing an entire week of pre-anniversary coverage, calling it a waste of time, resources, and potentially exploitative to family members who lost a loved one on 9/11.
The networks also said they would not be designing an "America Remembers" graphic to be constantly plastered across the bottom third of the television screen; wouldn't even think about conducting "trite, unoriginal, and what basically amounts to filler" man-on-the-street interviews that ask citizens where they were on 9/11; and, calling it "sensationalism just for the sake of sensationalism," wouldn't repeatedly show archived footage of airplanes colliding into the Twin Towers and New Yorkers running away from the collapsed buildings.
Sources at Fox News confirmed that at no time during their coverage would they use the anniversary as an excuse to paint the Obama administration as weak on terrorism.
"I would imagine some might think that because it's the 10th anniversary, we would latch on to the whole '10th' aspect and blow it completely out of proportion," MSNBC national news director Derrick Lipton said. "But we're smarter than that. Our viewers are smarter than that. If anything, we'll maybe cut back to Ground Zero when Presidents Obama and Bush leave the memorial service. And then maybe we'll have Tom Brokaw on to talk about what it was like covering the event 10 years ago. If we do that, we'll probably do commercial bumpers where we show images of the two beams of blue light shining up into the night sky, footage of Bush with his bullhorn saying, "Well, I can hear you," and maybe something that represents the human side of the tragedy, like people tacking up pictures of their loved ones. That's it. But then I suppose we could also have [former mayor Rudy] Giuliani on because, well, I don't know why. He won't say anything he hasn't said before, but it just feels like we should have him on, especially if Fox has him on. We could probably fill a bunch of time with the whole anthrax thing that came afterward, maybe do an entire terrorism retrospective that would look big and flashy but add no new information whatsoever, and just rerun that over and over and over again. Maybe throw in some of that mosque stuff. And then, oh, this would be perfect, we do profiles on the families who lost their loved ones on the Pennsylvania plane. We'll act as if we're shining a light on something that's been ignored, but really it hasn't been ignored, because over the past 10 years there have been 4,000 similar segments done about the circumstances surrounding that flight."
"But that's not what we're all about," he added. "We're better than that."