FORT WAYNE, IN—Some two dozen patrons at a local Chili's Grill & Bar were reportedly transfixed Tuesday when a sizzling order of chicken fajitas was carried from the kitchen across the dining room to a waiting customer, sources said.
According to witnesses, the fajitas—a staple of the popular restaurant chain's menu—sizzled for all 14 seconds of the plate's transport across the room, and continued to sizzle for up to 10 seconds after being placed in front of a party of five seated near the restaurant's bar area. Though most dinner conversations reportedly ceased the moment fascinated patrons caught sight of the hissing, $12.99 entree, several customers were overheard to say, "That looks good," "Ooh," and "I think those are the fajitas."
An enchanting trail of steam emanating from the black skillet on which the meat and vegetables continued to sear was also observed at that time.
"Usually sizzling is reserved for the kitchen, so it was intoxicating to witness something sizzle out in the open like that," said diner Tim Donnelly, 43, who reported experiencing a "temporary hypnosis" triggered by the combination of meat-fat, air, moisture, and vegetable oil. "I kind of wish I had ordered the fajitas now."
G/O Media may get a commission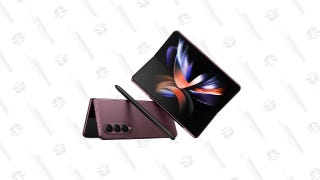 Save Up to $300
Galaxy Z Fold4
Sources confirmed that the overall level of awe and wonder among customers reached its height as the fajitas drew closer to their destination. A number of onlookers reportedly sat up in their seats and strained their necks in an attempt to discern which diner would be receiving the scorching Mexican specialty.
Though the natural transference of energy across two bodies of varying thermal density eventually reduced the fajitas' initial sizzling to a quiet simmer, witnesses continued to speculate as to the overall temperature and flavor of the dish.
"I don't know if those were chicken or steak fajitas, but when a meal sizzles like that, chances are it is delicious," 29-year-old patron Shannon Halfhill said. "And I know that skillet was burning up because I explicitly heard the waiter say to the man, 'Be careful. This plate is really hot.'"
Chili's staff members later reported a correlation between the public display of sizzling fajitas and a spike in fajita sales. According to an analysis of time-stamped receipts, four additional fajita orders were placed within the first seven minutes after the original dish appeared.
"I don't actually like fajitas that much," said 39-year-old Sam Weber, who was among those to order the fajitas. "They can be a hassle because you have to worry about not putting too much meat and vegetables in one tortilla so that you have enough for the other three, and they almost always fall apart so you end up eating them with your fork anyway."
"But it's definitely worth it if they are going to sizzle like that," Weber added.
According to server Heather Wright, 20, one customer requested that his order be switched from the Country-Fried Chicken Crispers to the Citrus Fire Chicken and Shrimp Fajitas after Wright confirmed that the Chicken Crispers would not sizzle at any point during their delivery to his table.
"What can I say?" Chili's manager Mike Taft said. "People really like it when their food comes out sizzling."
Marcia Hillend, the 34-year-old budget manager who ordered the captivating fajitas, told reporters they tasted fine.