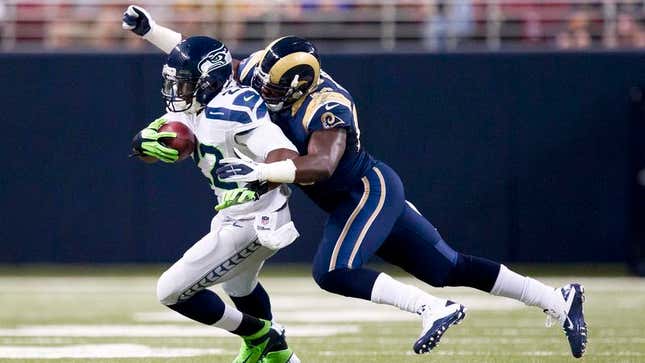 ST. LOUIS—After an 11-year NFL career, a Rams nose tackle officially announced his retirement from pro football at a press conference Friday, telling reporters that over the next five years he intends to lose all of his money and eventually shoot himself.
This Week's Most Viral News: September 22, 2023
"After more than a decade of playing football, I'm ready to begin the next chapter of my life," said the defensive linemen, who was selected 94th overall by the Cowboys in the 2001 draft out of Maryland. "Next week I will move to my home to Sarasota, Florida, where in the coming years I plan to squander my career earnings, slide into depression, and commit suicide sometime in early 2018."
The 33-year-old told reporters that starting next month, he will begin drinking heavily, behaving erratically, and making a series of brash fiscal decisions that will gradually reduce him from being a multimillionaire to bankruptcy.
"I've already made several bad investments I expect will lead to my financial ruin sometime in the next three or four years," said the nose tackle, noting that his adviser won't push back against any of the investments because he's afraid of being fired. "When the money dries up, I'll try to keep my head above water by appearing in a few depressing ads for small businesses in the St. Louis area."
"Then who knows? I may even explore a career in broadcasting that will fail because I'm not famous enough and have absolutely no relevant experience," he continued. "And at some point I'll attempt a brief football comeback, which will be so humiliating it will just make me even more depressed."
Explaining that he is completely unable to function in normal life without a strict, regimented schedule, the NFL veteran estimated that by 2017 he will have been arrested three times for driving under the influence, once for assaulting his girlfriend in public, and will also be under investigation for tax fraud.
Tormented by constant pain from injuries sustained during his career, and facing the prospect of waiting eight more years before he can even touch his pension fund, the defensive tackle said he then plans to shoot himself in the chest with a 12-gauge shotgun.
"I might shoot my girlfriend too—I haven't really decided," said the 33-year-old, noting that he intends to donate his brain to a Boston University study on chronic traumatic brain injury. "Either way, I'm definitely going to leave some kind of heartbreaking note explaining how I can't live with who I've become, and how I just don't want to deal with the pain and shame anymore."
"Maybe they'll write a three- or four-paragraph story on ESPN about it," he added.
The 11-year NFL veteran mentioned that after committing suicide, his post-retirement plans include serving as a cautionary tale to younger professional football players and maybe being cited as a statistic in a mental health debate.
"That's all still a ways down the road, though," said the two-time Pro Bowl defensive lineman. "For now, I'm just going to focus on spending time at home feeling worthless, becoming increasingly hostile and violent toward my family, and alienating all the people I love. You know, the stuff that's really important."