MISSOULA, MT—Due in large part to the encouragement of her so-called friends, 34-year-old Karen Sabin quit her steady job to make and sell homemade gourmet dog biscuits out of her home, the former hospital receptionist told reporters Monday.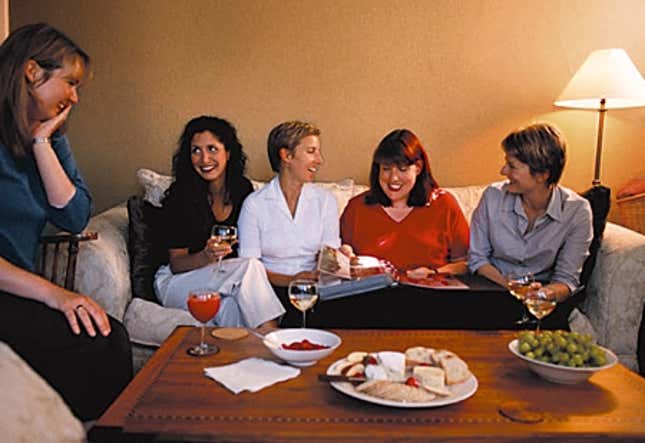 CDC Issues Dire Warning That Nick Cannon Is Feeling Horny
"People love gourmet foods," said Sabin, describing the thought behind her half-formed business plan. "It only makes sense that dogs would, too. Don't they deserve to have their taste buds tickled? There's a huge untapped market for high-end dog treats made with natural ingredients, and I'm getting in on the ground floor. If you don't believe me, ask my friend Angie [Anderton]."
Sabin said she arrived at the idea of producing gourmet dog biscuits in May, not through careful market research, but through a discussion with Anderton.
"I told her about this article I read somewhere, about how Milk Bones are mostly made of ash," Anderton said. "When Karen heard that, she almost lost it. She'd been giving Milk Bones to her golden retriever Max for years. I said, 'Wouldn't it be great if someone made all-natural dog biscuits?' and Karen's eyes lit up. I'd never seen her so excited."
Armed with the drive to succeed, Sabin began to test dog-biscuit recipes in her kitchen. She also began to sketch out packaging ideas, giving Anderton frequent updates on her progress.
"I said, 'Do what you love, and the money will follow,'" Anderton said. "Even if it doesn't, at least she pursued her dreams. I'm so happy for her."
Sabin adapted a recipe she found on the Internet to create her signature line of six dog-biscuit varieties. She made a large batch of what would become "Grandma Sabin's Low-Fat Biscuits For Particularly Finicky Dogs," and sent samples to six of her dog-owning friends.
"I don't remember, but I guess I told her how much my dog loved them," Sabin's friend Peggy Van Vliet said. "A few weeks later, she came up to me and told me that my compliment really encouraged her. She said something about leaving her job and going into business for herself. What could I say? She seemed so happy. I told her it was a good idea."
Two weeks ago, Sabin tendered her resignation at Missoula General Hospital to devote more time to her ill-conceived dream. Until her home-equity loan is approved, she will use her life savings of $3,000 as working capital.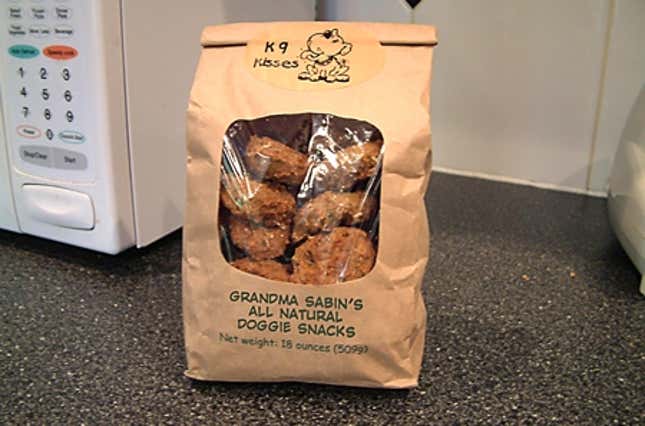 "When Karen said that she was quitting her job, I told her she was doing the right thing," longtime friend Gail Komareck said. "She doesn't actually have any small-business experience, but how else is she going to learn? I told her to jump in headfirst. It's sink or swim. Besides, she really hated the long hours she had to work at the hospital. She has everything to gain and not all that much to lose."
"Plus, my dogs seem to love those biscuits," Komareck added.
Sabin said she will produce the biscuits in her kitchen and sell them through the mail until she generates enough capital to open a storefront with a bakery. This will require the sale of approximately 90,000 biscuits at $1.50 each.
"I expect to open the store early next year," Sabin said. "Maybe I can even get it open before Christmas. But I'd have to look into… I don't know. I guess I'd have to call a real-estate agent to find a store location?"
Former coworker Wendy Gerber is among the many friends who encouraged Sabin.
"Karen was so excited about her business," Gerber said. "I couldn't help but get caught up in it. I asked her if I could do anything for her, and she told me that she needed help designing a web site. I was happy to help. Most businesses go under within a year, so she needs a professional web site to give her business an edge."
In the past three weeks, Sabin has given out nearly 60 dog biscuits and sold almost twice that many, all to friends. By conservative estimates, unless she experiences a 4,000 percent increase in sales, Sabin will be forced out of business before the end of the year.
"You'd be surprised just how many dogs prefer my biscuits," Sabin said. "If you put one side by side with a store-bought biscuit, dogs will always eat mine first. I'd eat these dog biscuits myself, if it came down to it. With that kind of endorsement, how could I possibly go wrong?"