WESTON, FL—In a public ruling made this week while peering into the home of 28-year-old resident Laura Daltry, Supreme Court Justice Samuel Alito stated that "in no way whatsoever" is the right to privacy explicitly upheld by the U.S. Constitution.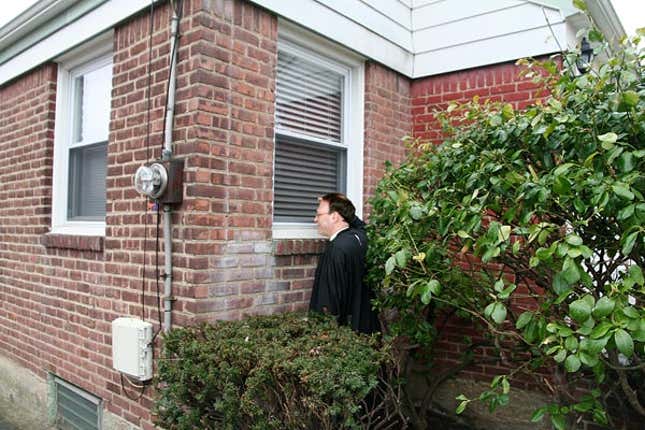 This Week's Most Viral News: September 29, 2023
"After careful consideration, it is this justice's finding that there is no specific mention of the right to privacy in any of the 27 amendments," Alito whispered, before furtively looking around and then jimmying Daltry's bathroom window ajar with a penknife. "A rigorous originalist interpretation of the pertinent statutory language has yielded the conclusion that privacy is not now, nor has it ever been, a federally protected liberty."
"Although modern tort law indicates four categories of privacy invasion, these amount to little more than a vague suggestion of the 'right to be left alone,'" Alito added, crawling through the narrow opening and slowly lowering himself onto Daltry's toilet tank. "Plus, if you rent a ground floor apartment, you're kind of asking for it."
The 1-0 decision, made by Alito after several scotch and sodas at a nearby bar, stipulated that a citizen does retain the personal rights unambiguously guaranteed by the Fourth and Fifth Amendments, specifically those pertaining to search and seizure. However, Alito said that the amendments' language does not unequivocally protect against high-level judiciary officials entering one's home and rifling through one's laundry hamper.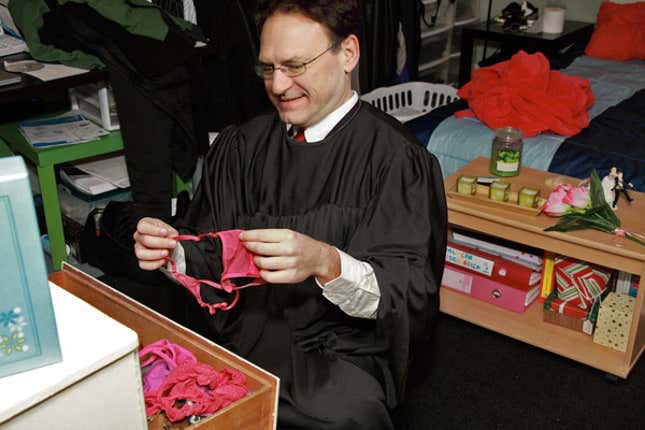 Alito was also careful to point out several times that Supreme Court justices are appointed for life.
"No reading of the applicable statutes or legal precedents reveals the proceedings at hand to be unlawful or unconstitutional in any way," Alito said as he lightly ran his fingers over a tube of contraceptive foam he found in Daltry's medicine cabinet. "Additionally, there is no express mention of, or even reference to, 'Supreme Court Justice Samuel Alito' in any of the amendments relevant to said proceedings."
"Christ, what on earth does this woman need with three boxes of Q-tips?" Alito continued, hiding behind the bathroom's shower curtain after he thought he heard a noise.
The associate justice has made similar rulings in the past during what he refers to as "emergency sessions." Alito's most notable case of this kind was decided in 2006, when he hastily found that "the U.S. Constitution does not specifically uphold the pursuit of happiness" after hitting an unidentified man with his car and speeding away.
Alito cited additional cases relating to his latest decision, including three pertaining to the current state of habeas corpus rights, and the landmark case of Souter v. Alpha Delta Pi Sorority, Michigan State University Chapter.
"The Constitution was intended by the framers to be malleable in order to accommodate for extraordinary wartime circumstances, and as such, certain personal and property rights cannot always be guaranteed," concluded Alito, breathing heavily through a pair of pink undergarments before concealing them in his robes. "If a party is in possession of certain items of interest that could be important to, uh…a federal investigation, then due process can be suspended and these items seized without first having to obtain a warrant or other writ."
Justice Alito was not available for further comment as Daltry had suddenly returned home and exercised her constitutionally protected Second Amendment rights.