HOUSTON—Representatives from the Clemens family met with the star pitcher over an informal dinner Tuesday evening to discuss the possibility of keeping Roger Clemens home for one more season, sources close to the family reported.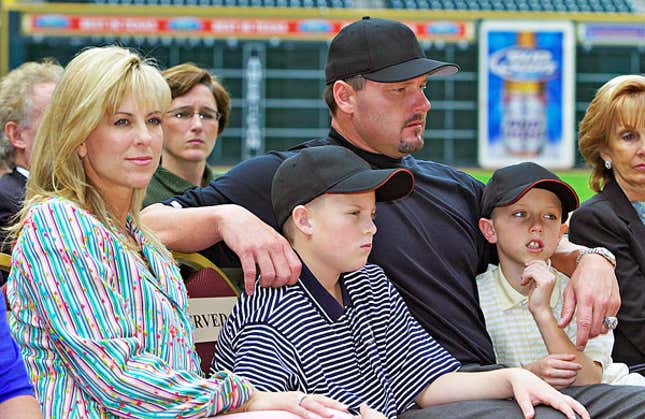 Study Finds LSD Highly Effective At Ruining Nephew's Baptism
Baseball analysts are calling the one-year, $10 million contract a last-ditch effort on the family's part to bring the seven-time Cy Young Award winner and three-time World's Greatest Dad back to his roots.
"It's hard to put a dollar amount on what Roger has historically meant to this family," said Clemens' wife Debbie, who has been handling most of the negotiations. "Many of the younger members of this organization really look up to Roger—growing up, he was their hero. Now Roger has the chance to be a kind of mentor to guys like Kacy and Kody. They have really been lacking the strong veteran presence that's so crucial at this point in their careers."
"We need you, Roger," Debbie added. "Please come home."
According to reports, the contract is a one-year deal with a family option for a second year should Clemens perform well in his new role as husband and father. Much of the $10 million will be deferred to allow the family to accommodate his other demands, particularly the custom recliner and the vanity plates for his Hummer. According to Debbie, this contract is nearly identical to the one Clemens signed to join the family initially.
The incentive-laden deal includes a signing bonus of $2 million, and gives Clemens the chance to earn an extra $3 million if he makes an appearance in at least 25 family game nights over the course of the summer, plus an additional $250,000 every time he plays a regulation round of catch with one of his sons. Under the terms of the contract, Clemens would not be obligated to attend away visits to Debbie's mother's house.
Debbie added that the family would have the right to terminate the contract at any point, however, should Clemens ever get caught cheating.
Some experts say that the aging right-hander is no longer focused or dedicated enough to be a leader in the household. However, many maintain that, should Clemens decide to rejoin his wife and children, he will quickly adjust to handling the responsibility and expectations that come with a lucrative contract.
"Roger Clemens would be a great addition to this family," analyst Jayson Stark said. "He can really work with those young kids as they develop and mature, and teach them everything he knows. Although the family probably isn't looking for him to fill a role-model-type position, it couldn't hurt to have a guy like him around to be there for them after they've had a rough outing. Those kinds of experiences are invaluable."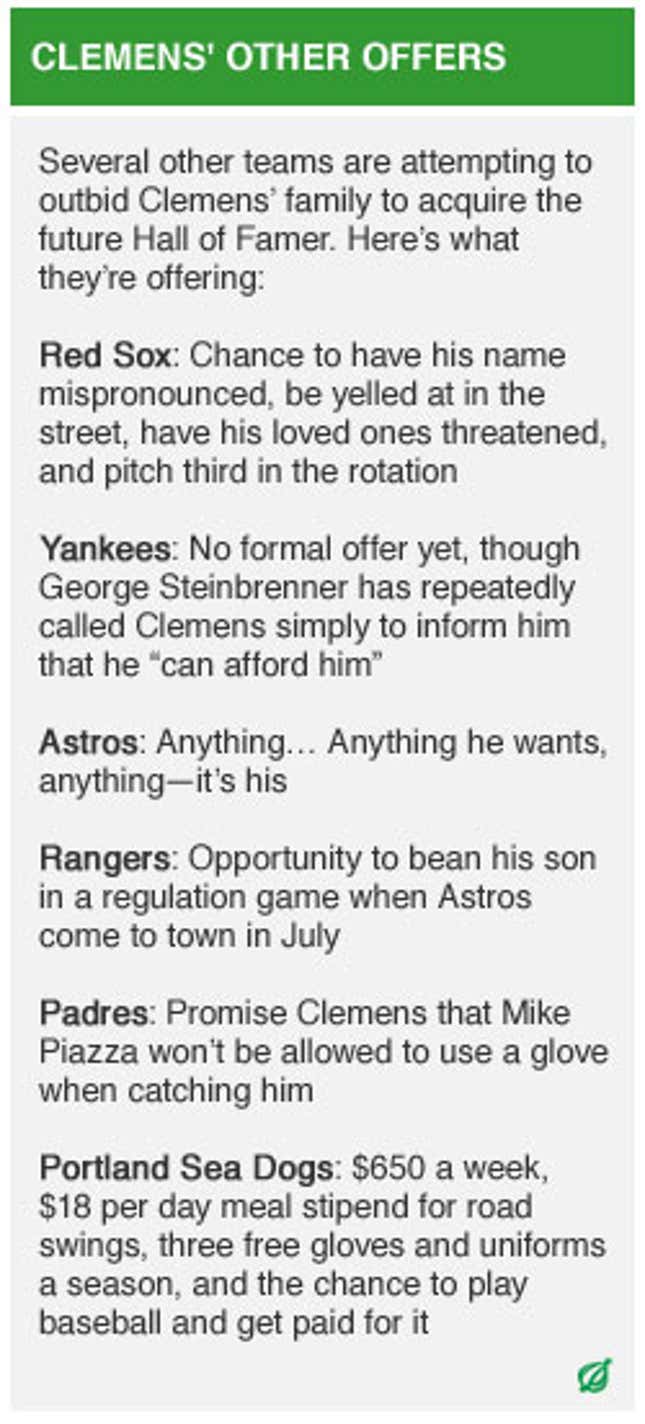 Some analysts, however, say the Houston Astros, who last week formally offered him a $12 million deal, have the strongest chance of landing the pitcher, as Clemens himself has said that the most important thing for him right now is "being close to home."
"At this stage in his career, Roger Clemens is interested in winning, and I think it's safe to say that his family has no chance of even getting to the World Series," analyst Peter Gammons said. "The Astros organization is full of familiar faces, people with whom he has grown unusually close, and I get the sense that the people there truly care about him. You can't find that sort of unconditional love just anywhere."
"And when you think about it, $12 million is an awful lot of money," Gammons added.
Clemens' agent Randy Hendricks said that, although the family does present a lot of advantages that other teams simply cannot offer, Clemens is still undecided about where and with whom he wants to spend the 2006 season.
"They gave a fair offer, and these folks are certainly in the running," Hendricks said. "Roger is keeping all his options open for now, and I'm sure that, just as they have in the past, his family will be supportive of whatever decision he ultimately makes."
Clemens has refused to address speculation that his recent visits to the family have been an attempt to coax more money out of competing organizations.
Some experts, such as Baseball Tonight's Buster Olney, say that the Clemens family is the clear frontrunner to acquire the pitcher, pointing out that Clemens has been working out at the family's Houston-based facility during the winter and spring months. According to Olney, it would be "a homecoming of sorts" for the native Texan, who would relish the opportunity to return to the organization he once helped build from scratch.
"Sure, Roger may have created a rift with these people, who once claimed to be his 'biggest fans,' but he now has a chance to rectify all that and see his career come full circle," said Olney, noting that if Clemens doesn't take his family's offer now, that opportunity might not present itself again. "He has a shared emotional bond with them that he has only previously experienced with the Red Sox, maybe the Yanks."
"Whether he likes it or not, Roger Clemens is practically a part of this family," Olney added.