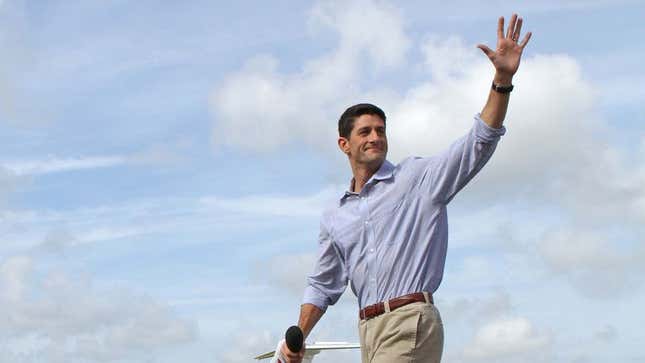 BOSTON—Following the widespread controversy over Mitt Romney's recently leaked comments criticizing Americans who depend on the government, Republican vice presidential candidate and widely beloved champion of the poor Paul Ryan was quickly called in Tuesday to bolster the Romney campaign.
This Week's Most Viral News: September 22, 2023
"We've obviously been set back a bit, but thankfully we have the perfect guy to the right the ship and win over the nation's lower class," said campaign manager Matt Rhoades, adding that Ryan was the first person he thought to call when the video of Romney's candid discussions with ultra-rich donors emerged yesterday. "Even if we take a hit among lower-income voters in the polls for a day or two, Congressman Ryan will, amazingly enough, win them back to our side, just like he always does."
"I've never seen anything quite like it," Rhoades continued. "Poor people just love him."
According to sources, Romney's advisers have dispatched the modern-day Robin Hood to speak to voters in the most economically downtrodden regions of the country, where thousands of working-class Americans are already lining up outside the venues of Ryan's upcoming rallies to don T-shirts and wave handmade signs in support of the selfless guardian of the poverty-stricken.
"Paul Ryan sticks up for us when no one else will, everyone knows that," said 49-year-old unemployed construction worker Vernon Fletcher, calling Ryan a true beacon of hope for the nation's impoverished. "He's in it to the last round, fighting tooth and nail for every struggling, blue-collar man and woman in America. He's done it time and time again, and he's done it again today."
"Obviously, I have my reservations about Romney, especially after he basically labeled me as a government-dependent freeloader," Fletcher continued. "But Paul Ryan—that guy definitely has our back."
Across the country, millions of the nation's poorest citizens were reportedly elated at the sight of the celebrated scourge of privilege and greed emerging to once more take up their cause, inspiring the needy with his words of comfort and support and his famously common touch.
"Here he comes!" screamed receptionist and single mother-of-two Ellen McGrath, 34, gathering her young children around the small television in their one-bedroom apartment to watch the latest speech from the tireless hero of the downtrodden. "It's such a relief knowing there's someone in Washington who actually cares about us and watches out for our interests."
"I don't know what we'd do without him," added McGrath, her eyes welling with tears. "And we need him now more than ever."
At press time, sources confirmed that, following a recent speech from Ryan, Mitt Romney's poll numbers had shot up 80 percent among voters making less than $25,000 per year.