IOWA CITY, IA—University Of Iowa pre-law major Peter Kaufman announced Sunday that his roommate of two weeks, Rob Carrero, would be informally barred from cleaning the bathroom of their two-bedroom off-campus apartment, citing Carrero's general ineptitude at other household maintenance and the probability that he would "leave it in worse shape than before he started."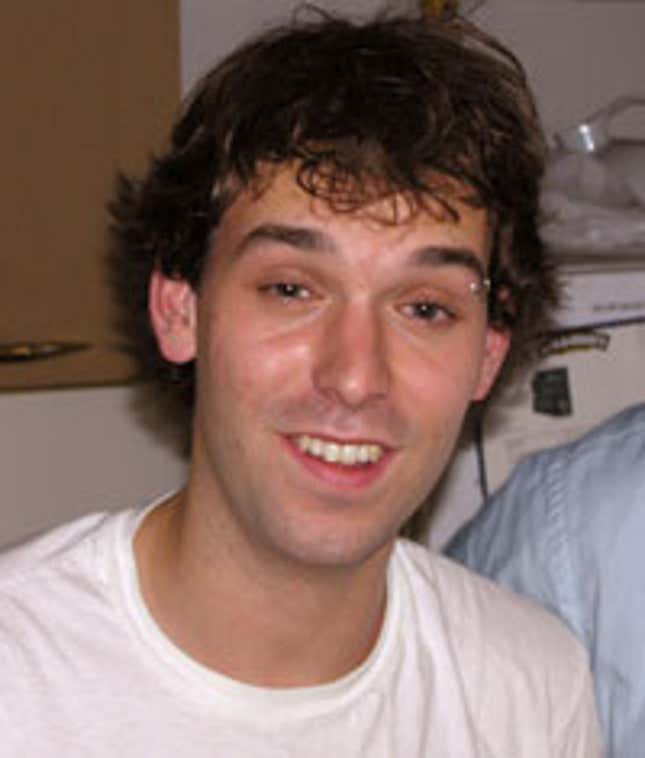 Study Finds LSD Highly Effective At Ruining Nephew's Baptism
"I was all set to draw up a cleaning schedule when we moved in, but after seeing the way he washes the dishes, I think I'll just handle the bathroom myself from here on out," said Kaufman, 20. "He would just do it wrong. I'm convinced of it."
Although Kaufman admitted he was still getting to know Carrero, he found the 19-year-old engineering student's pan-scouring abilities during the first weekend of their cohabitation to be an indication of his housecleaning acumen. "I can just envision the mildew colonies that would go untouched in the corners of the tub and between the shower tiles," Kaufman said. "I'd go so far to say that he's the type of guy who thinks it's appropriate to use Windex on the tub instead of Formula 409."
According to Kaufman, Carrero approached him while he was cleaning the bathroom last Friday and asked if he needed any help. Kaufman declined and told him he was "almost done anyway," after spotting a kitchen sponge in Carrero's hand.
"I don't know what he thought he was going to do with that," Kaufman said. "That sponge is for dishes and dishes only. Even if we were to overlook how disgusting that proposition is, the kitchen sponge would also be completely ineffective. You need a plastic scrub brush, or a separate sponge with an abrasive side, although experience has told me the latter does an inferior job."
Added Kaufman: "Rob's simply not cut out for this kind of responsibility."
Speculating that Carrero grew up in a household where his mother cleaned the bathroom, Kaufman "wouldn't be surprised" if Carrero also tried to clean the sink with paper towels and then discard the used ones in the toilet.
"A toilet bowl is not a trash can," said Kaufman, who added that if a clog occurred for this reason, Carrero would have to wait for the plumber, since Kaufman certainly would not.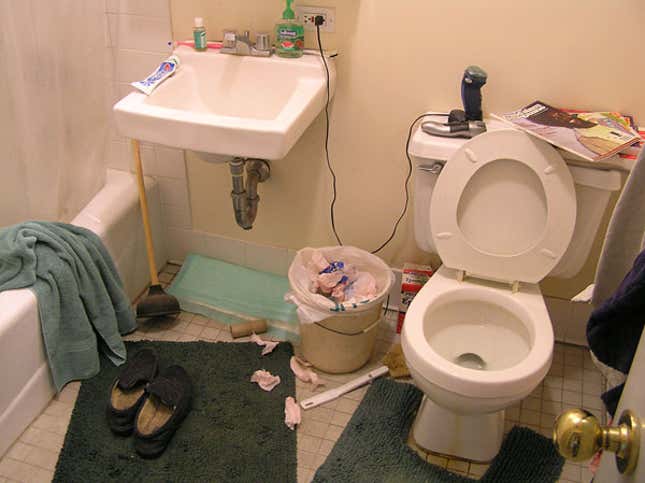 Carrero's handling of the recycling last weekend also gave Kaufman cause for concern. "When I came home Sunday night, I inspected the bags he left in front of our building," Kaufman said. "He had a  Dr. Pepper can in with the plastics. To me, that screams 'shaking out the bathroom mat over the tub, washing the floor with God-knows-what—probably hand soap—and putting the mat back down on the wet floor, creating a gigantic mold habitat.'"
Among other "disgusting mistakes" Kaufman predicted Carrero would make if given the chance: failing to clean the "often overlooked" area between the toilet and lid hinges, cleaning "around" the shampoo and conditioner bottles on the rim of the tub rather than taking the time to lift them up and remove the rings of soap scum underneath, and breaking two shower-curtain rings off the support rod after stepping on the bottom of the curtain with shoes while cleaning the tub.
According to Carrero, Kaufman is "really possessive of the bathroom."
"A few times already, Peter's gone off about 'toothpaste speckles' on the mirror, something called a 'grout,' and the 'grime and saliva' that he has to bleach out of our toothbrush-holding cup," Carrero said. "It's a little odd, but whatever. I'd offer to help him out again, but I don't want to get in his way."