BOSTON—Though Tom Alford has been living with him for more than three months, Kyle Fisher, 26, told reporters Sunday that his roommate's work schedule is more of a mystery now than it was when Alford moved in last October.
"I'm not sure exactly what he does, but I think he said he works at this place where he makes these calls to people for these events," said Fisher, who added that, from what he can tell, Alford works anywhere from 10 to 60 hours a week. "It sounded like a Monday-to-Friday, 9-to-5 kind of thing to me. But just this past Wednesday, I got home a little early and Tom was asleep in bed."
"That means he either got home before I did and immediately went to bed, or he didn't go to work at all," Fisher continued. "Last week wasn't a holiday and he wasn't sick, so maybe Tom doesn't work on Wednesdays? Does that even make sense?"
Alford, who Fisher said is either from Connecticut or Pennsylvania or maybe just went to school in Pennsylvania, responded to the roommate listing on Craigslist in early September. According to Fisher, the hard-to-pin-down Alford "seemed fine" while being interviewed for the room, and claimed that he typically leaves for work every day at 6:45 a.m. due to an hour-long morning commute.
"I thought that was great because I wake up at 7:30, so I figured the bathroom would always be free," Fisher said. "But sometimes when I wake up, Tom is still in the bathroom showering."
G/O Media may get a commission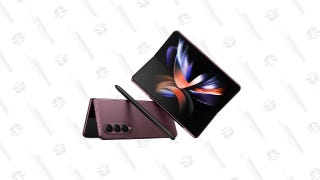 Save Up to $300
Galaxy Z Fold4
"Last Friday, Tom came back to the apartment around 5 p.m., and I asked him how work went," Fisher added. "But Tom said he wasn't coming back from work."
Over the past few months Fisher has developed multiple theories about Alford's work schedule. Initially, the 26-year-old was convinced that Alford had switched his hours and was working from 12 p.m. to 8 p.m., while the next week it appeared as though Alford had begun working only three days a week. During the month of October, Alford reportedly left the apartment several times at 10 p.m. for a "work thing," causing Fisher to briefly consider that his company had implemented some sort of night shift.
Fisher spent all of December certain that Alford had either been fired or had never had a job in the first place.
"There have been several instances when I've gotten up at 3:30 [a.m.] to get a drink of water and he's in the kitchen cooking pasta," Fisher said. "Honestly, the entire thing is a complete toss-up at this point."
According to Fisher, a container of NyQuil recently appeared in their shared medicine cabinet, leading him to believe that Alford had been sick and staying home from work. However, Fisher said he overheard Alford on the phone with a "relative of some sort" saying that he had yet to use a sick day, and was trying to accrue enough time off to come home for a visit.
Fisher told reporters that, on the rare occasions when they do speak, Alford will often say things like "work has been crazy lately," but never offers any meaningful insight into his actual work hours.
"He gets his rent in on time, so I guess I shouldn't care," said Fisher, adding that there is no indication that Alford's parents are helping him financially. "Maybe he works at a place where they don't really monitor whether he shows up or not. Or maybe he can work from home sometimes. Or maybe he's been working every day including weekends this entire time."
"Or maybe he's some lying weirdo," Fisher continued, but was interrupted by Alford, who emerged from his room, walked to the front door, and exited the apartment.
Fisher then sat motionless on his couch.
"I thought he was gone for the day," he said. "Do you think he heard any of this?"