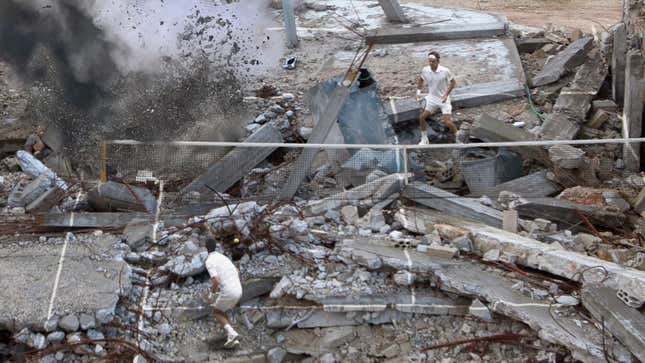 GHOUTA, SYRIA—With its uneven, debris-strewn playing surface causing balls to bounce severely and unpredictably, players at this year's highly anticipated Syrian Open admitted Thursday that the tournament is a serious test for anyone unaccustomed to its notorious rubble courts.

Unlike the perfectly manicured grass, clay, and hard courts at other tennis events, the annual tournament's heaps of concrete, ash, and mangled steel girders reportedly frustrate first-time competitors and veterans alike, leading to numerous early-round upsets and frequent in-match forfeitures due to lost limbs.
"The Syrian is easily one of the most physically and mentally demanding events on the tour," said women's 4-seed Maria Sharapova, noting that it requires incredible effort and concentration to block out the pervasive rotting stench at Ghouta's All-Syria Club. "It can be infuriating having to run across twenty feet of shattered glass and mortar just to track down a routine drop shot, but, of course, your opponent is dealing with the same thing."
"There are a lot of little adjustments you have to make while playing here," Sharapova continued. "The rubble just tends to favor flatter groundstrokes with less topspin, and all the dried blood out there pretty much renders your slice useless. It's a very tricky surface."
Describing the jagged detritus around the net as a major obstacle for the serve-and-volley strategy, players told reporters that it often takes several days to become accustomed to the pained wails of distress and intermittent bursts of gunfire issuing from the Syrian Open's otherwise eerily quiet stands.
G/O Media may get a commission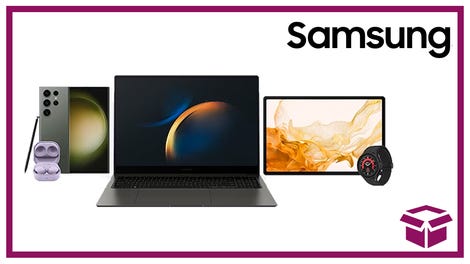 24 hour deals
Discover Samsung - Daily Deal
"You certainly have to get into a rhythm, evading the live grenades and altering your kick serve so it lands in the service box without hitting any used artillery shells," said men's world No. 3 and three-time winner Roger Federer, noting that the tournament is notorious for frequently suspending play due to starved, terrified civilians running across the courts while attempting to flee the country. "The first time I played here, I was so distracted by the explosions and the distraught, crying mothers roaming the grounds, I didn't even make it out of the second round."
According to those who have competed in previous years, the event gives a distinct advantage to more agile players who can easily dash around charred husks of destroyed vehicles while adjusting their footwork to avoid triggering the many active landmines littering the court.
While some thrive in the slower, extremely cautious playing style of the rubble courts, the Syrian Open remains incredibly divisive among players. Many have reportedly complained in recent years about the tournament's strict policy of wearing all-white Kevlar vests during match-play, and several high-profile stars have also publicly demanded that officials install a retractable roof enclosure to shield against the many ballistic missiles landing in and around the courts.
"People always talk about the difficult surface and the sarin gas hanging in the air, but I love it here," said defending champion Tomas Berdych, who won last year after all four quarterfinalists in the opposite half of the draw withdrew with shrapnel injuries. "The way I see it, you can either get annoyed at the tattered, sagging nets and decomposing human bodies, or you can embrace them."
"Novak [Djokovic] is the real master on rubble," added Berdych. "He just has a knack for knowing exactly when to take cover from detonating pipe bombs, and it's amazing to watch him move so quickly across the smoldering ground and then fire a pinpoint forehand to within an inch of the severed body part he's aiming for. Beating him in the final after he was hit by crossfire between warring rebel groups was one of the highlights of my career."
Though the Syrian Open offers very limited access to food and clean water, and has not featured a functional scoreboard since 2011, players said the event still attracts competitors from across the world seeking to prove themselves and take home the highly coveted silver car bomb.
"Once you get past the fact that there's no security personnel, no clubhouse, and no safe shelter for miles, you settle into a groove," said women's top seed Li Na. "You can't let it get into your head when gangs of armed men keep kidnapping the ball boys or the chair umpire is blown away by a barrel bomb dropped from a helicopter—you just play through that stuff."
"That's just the unique atmosphere of the Syrian," Li added. "It's become part of the tradition here."
As with last year's event, Syrian president Bashar al-Assad is expected to attend the men's final Sunday and will be seated with his wife in box seats just above the centre court mass graves.