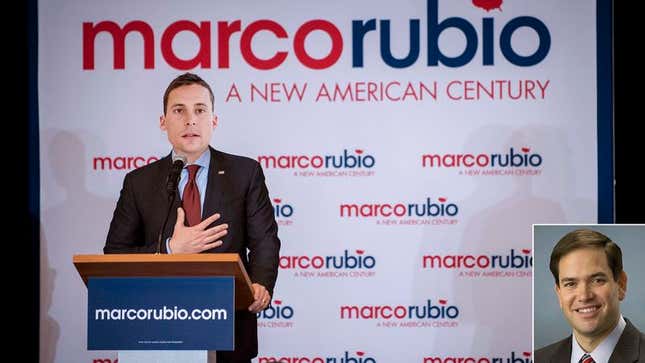 MIAMI—In what political observers characterized as the organization's highest-level staff shakeup to date, the presidential campaign of Sen. Marco Rubio announced Monday it would be bringing on a new candidate for the remainder of the 2016 election.
Edgelords Explain Why They Love Elon Musk
Top members of the Rubio camp, speaking at a morning press conference at their Florida headquarters, assured reporters that the organization's split with its former candidate was an amicable one, but noted that the team's senior leadership had concluded a new direction was necessary to ensure the campaign's future success.
"Everyone at Rubio '16 is very grateful for Marco's hard work these past 10 months, but we think someone with a fresh, new approach will give us the best shot at winning the Republican nomination and taking the White House in November," said campaign manager Terry Sullivan, adding that while Rubio would no longer be a part of the campaign going forward, the rest of the organization would remain in place, exactly as is. "This campaign is a well-oiled machine with a terrific network of volunteers and staffers across the country, and with a little bit of new energy in a key position, we're confident our message will appeal to all Americans."
"Once we get a new candidate on board, Rubio '16 will be perfectly positioned for a big Super Tuesday and beyond," Sullivan added. "Voters are excited for a new American century."
Although Sullivan declined to provide additional details about the campaign's decision to split with the candidate, unnamed sources from within the Rubio camp reported that tensions between Rubio and senior officials dissatisfied with his job performance had been building for months. Campaign insiders additionally confided that many within the organization believed from the beginning that the relatively young newcomer to national politics was never a good fit for the high-pressure environment of a top-level post in a presidential campaign.
Several sources with knowledge of the situation stated that staffers had initially considered simply relegating the candidate to a lesser role within the organization. However, advisors were reportedly convinced that a clean break was the only way forward, because Rubio—who had been entrusted with such a prominent role in the campaign due, in part, to beliefs that he could help expand the campaign's reach to a younger and more diverse audience—had failed to make any significant inroads with millennial voters.
"It's been obvious that something like this was in the works for a while now, but after failing to win any of the early primary states, I think the campaign realized they couldn't put it off any longer," said conservative columnist Kathryn Jean Lopez, adding that allegations of incompetence were also reportedly leveled by certain staff members and likely played a role in the split. "Bringing on a new candidate gives them a chance to find someone who really grasps the message that Rubio '16 is trying to communicate to voters. Sure, it's risky to change up at this point, but what other choice do they have?"
Added Lopez, "I'm sure right now the Rubio campaign is just wishing they'd listened to all the people who said they should've gone with someone more experienced from the beginning."