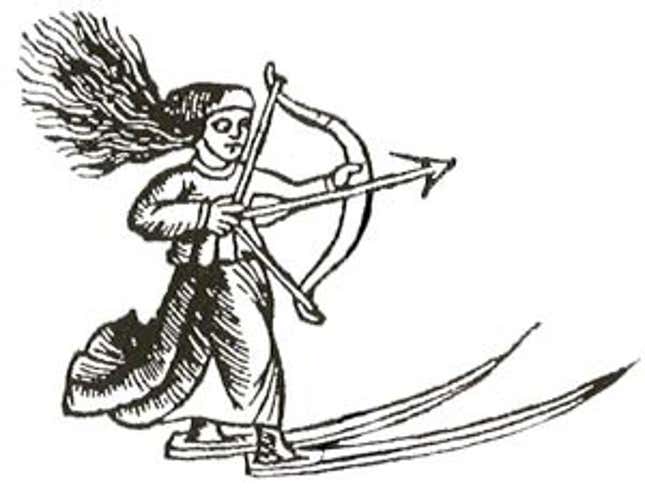 QUALIFICATION: Competitors must have a top-five finish in a previous International Olympic Committee-sanctioned event and be fully recovered from same, or optionally, have been convicted for crimes they did not commit and offered the choice between the Snøkåathlaan and a lifetime in the Danish foreign legion. Previous Olympic Snøkåathlaan victors are automatically pardoned and may return to their families.
EQUIPMENT: Skis are standard 2-15 meter-length Snøkåathlaan models. Ski poles must not unscrew to reveal hidden swords. Use of hollow-point ammunition forbidden. If dog team includes a St. Bernard, the keg affixed to collar of same must contain either brandy or a similarly flammable libation. All prosthetic limbs and digits must meet the 2005 European standard and must be replacements for, not additions to, original anatomical features. All aluminum bats, trip wires, and especially heavy beards must be approved by IOC prior to event.
RACE: Begins with standing start; starter calls first "ready," "set," waits from two seconds to an hour; then discharges a pistol, usually into the air. Deviations from the course will result in disqualification unless they turn out to be faster. In the event that a sled dog returns to the wild, snøkåathlletes must gaze after the animal until it takes one poignant look back. During marksmanship rounds, competitors must not fire until fired upon. Dangling from helicopter must be done with one hand while also trying to save the girl. For each mogul, fruit stand, ski jump ramp, flaming hoop, or slalom gate missed, 10 seconds will be added to total elapsed time. Competitors finishing with times of more than 13 minutes will be disqualified.
This Week's Most Viral News: September 29, 2023