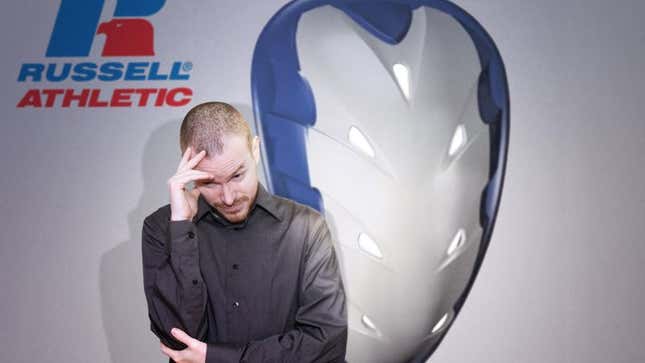 BOWLING GREEN, KY—Claiming that "today's more active athlete needs better protection for his, well, come on, you know," sports equipment manufacturer Russell Athletic debuted its new line of protective cups and athletic supporters Monday.
This Week's Most Viral News: June 2, 2023
"It's lightweight, it's breathable, and it can disseminate the shock of a 95 mph fastball to your, uh, to your person," bashful Russell Athletic spokesman Harold Feiniger told an assembled group of colleagues, reporters, and sports retailers. "It's, you know, a really good cup that you'll want to wear. Okay?"
Throughout the 45-minute product launch, a coy Feiniger barely made eye contact with the audience as he clicked hastily through a PowerPoint presentation showcasing the new cup's computer-designed venting, special kinetic-energy-dissipating form factor, and comfortable lining. When graphics depicting the cup being worn by a model were displayed behind him, he remained mostly silent, occasionally saying, "That's not me, okay?" and "I didn't take those pictures, either."
Feiniger was at his most sheepish when talking about how the cup was designed with an eye toward hygiene and convenience.
"The odor-fighting antibacterial coating is important because, well, I mean, it can smell down there. That's just a fact. You know that. I don't need to tell you that. Sweat builds up and it smells," Feiniger said. "And you know how some have that belt thing? This one doesn't have that. You just sort of put your, um, your deal all in there and it'll stay."
"Is it hot in here?" Feiniger continued. "It feels hot."
Though Russell representatives acknowledged they first realized a new cup was necessary when they found that 50 percent fewer athletes were wearing protection for "that area" than they were 10 years ago, company officials said they really did not want to talk about how they came by that data. Other sources at Russell confirmed that an increasing number of male consumers have reported that being struck in their "um, uh, lower-middle-region part of the body? Yes, there" during athletic activity is a major concern for them.
"Men complained that other athletic supporters would dig into their, would dig into their, well, that they would dig into them," said Gary Barfield, executive vice president of Russell. "They also said they wanted increased mobility, because an athlete moves from side to side a lot and most cups failed to accommodate their, sort of, dangling…. Let's just say we've taken every bodily thing into consideration."
Members of the research and development team that designed the new cup either refused to be interviewed for this story or were giggling too uncontrollably to comment.
While Russell is planning a rather understated media blitz to introduce the new product, including radio, TV, and Internet ads, it has not yet decided on the exact content of the promotions.
"We'll probably focus on the fact that it comes in four colors, because, yeah, it comes in colors," Russell marketing head Josh Andreico said. "And in the commercials we'll maybe say something like, 'It comes in four colors but never black-and-blue,' or something funny like that. Or we'll stress how important this thing is to your, the health of your, your things."
"Probably we'll just go with the colors," Andreico added.
Feiniger also took reporters' questions, including queries as to whether the new cup required any special "preparation," whether it "like needs, like soaking or anything," and whether it is "worn, as in used, I mean, the same as other, you know, cups."
In conclusion, Feiniger stressed that the key to Russell's new athletic supporter was comfort, not just on the field of play but also in terms of actually purchasing the product.
"You know how there's the whole thing with going to the store, and you have to pick out a size?" Feiniger said. "You don't want to stand in front of the rack in case someone comes in and you're there and he's there and you're there and he's…. We'll mostly be selling them on the Internet is what I'm trying to say."