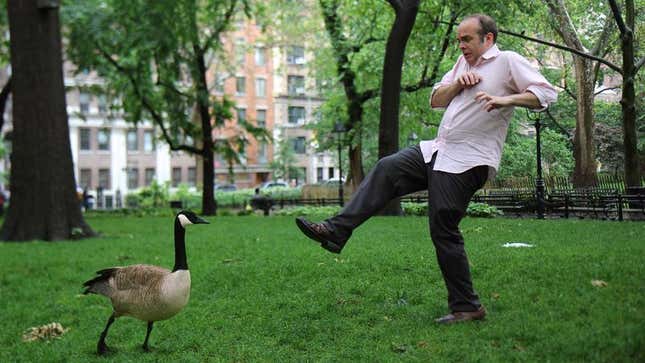 ARLINGTON, MA—According to onlookers in Wright Park, local sad sack Morgan Jennings was intimidated, bullied, and sent fleeing for safety by a Canada goose today while walking beside the park's namesake pond.
FBI Investigating Fourth-Grade Kid Who Said He Has Seen Over 200 Dead Bodies
Sources said the 36-year-old benefits officer was enjoying his lunch hour outdoors when the black-and-white migratory bird, which posed no real physical threat to Jennings, emerged from the water and waddled toward him, causing the utterly pathetic man to emit a feeble high-pitched noise and recoil in a shameful display of fear.
"That thing came at me out of nowhere," said a still-shaken Jennings, who mounted what was said to be a heartbreakingly pitiful attempt to scare off the housecat-sized animal by swatting the air in its direction from 15 feet away and uttering increasingly panicked yelps of "Shoo!" and "C'mon! Get out of here!" "They're actually pretty mean. I gotta say, geese are not nice birds at all."
"You really have to be careful around those things," added the man who outweighs the bird by more than 150 pounds. "They bite."
G/O Media may get a commission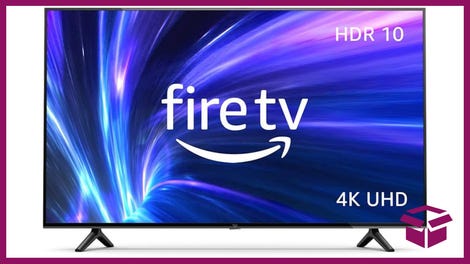 42% Off
Amazon Fire TV 50" 4K Smart TV
In spite of what witnesses described as a terrified Jennings standing stock-still for several seconds in hopes the goose would ignore him, followed by some weak half-kicking movements, the resolute waterfowl steadily continued toward the almost intolerably tragic human being, making several lunges with its neck that elicited just the saddest series of high-pitched, frightened shrieks from Jennings.
According to a number of joggers and park visitors whose attention was drawn to the situation by Jennings' spastic flailing motions and panicked cries of "What do you want? Go away!", the barely two-foot-tall bird extended its wings at one point and made a running charge at Jennings, sending him fleeing in girlish fear from the park's asphalt walking path and onto a nearby expanse of wet grass.
Additionally, the sheer terror coursing through Jennings is said to have caused him to stumble forward as he fled, resulting in him mashing the ham sandwich he was holding right into his button-down shirt.
"I was heading down to the water to feed the geese like I do each day, when I saw this really red-faced, hysterical man trying to get away from a goose," said onlooker Bernard Packer, 70, who watched the out-of-breath little man run to higher ground and position himself behind a park bench for safety. "I tell you, when that goose started to hiss at him, he really flinched."
According to bystanders, Jennings, who was reportedly frustrated almost to the point of tears by that point, made one last unsuccessful attempt to scare the goose off by slowly shuffling up within a few yards of the bird, shaking water at it from his Klean Kanteen, and then quickly retreating to safety.
"Geese are a lot bigger than you think and they're not afraid to stand their ground," said Jennings—unbelievably, a fully-grown adult male human being—as a nearby preschool-age child pointed at the goose and delightedly exclaimed "Look at the birdie!" "It's springtime, so it must have been protecting its young, because it really came right at me and didn't let up. It would've gotten me if I didn't move fast."
"These are wild animals," the sad, sad man added.
At press time, the goose had reportedly settled beside the path, prompting Jennings to wait nervously for five minutes before deciding to walk the opposite way around the pond an additional quarter of a mile to get back to his office.