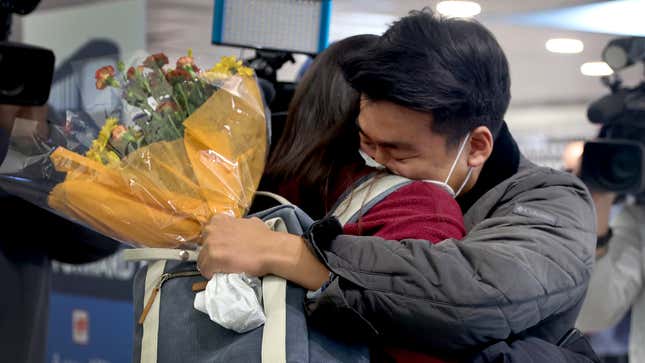 On Nov. 8, 18 months after the coronavirus pandemic began, the U.S. lifted travel restrictions for vaccinated people from many countries. The Onion was on the ground bearing witness to scenes from the lifted travel restrictions.
This Week's Most Viral News: June 9, 2023
Hundreds of people in tears over finally getting chance to see Logan International Airport.
Exhausted mother collapsing after 18 months circling O'Hare's pickup area.
Immediate boost to economy from last-minute airport snow globe sector.
President Biden and Vice President Harris cutting ribbon at U.S-Mexico border for America's grand reopening.
Tourism board of Topeka, Kansas getting their hopes up for nothing.
Reunited families gazing upon each other in horror over how much they've aged in past two years.
Japanese tourist getting firsthand experience of America's famous anti-Asian hostility.
High gas prices preventing travelers from going more than three miles from airport.
Filthy, bedraggled Ted Cruz finally able to return from Cancún.
New patient zero getting passport stamped, heading off to hotel downtown.