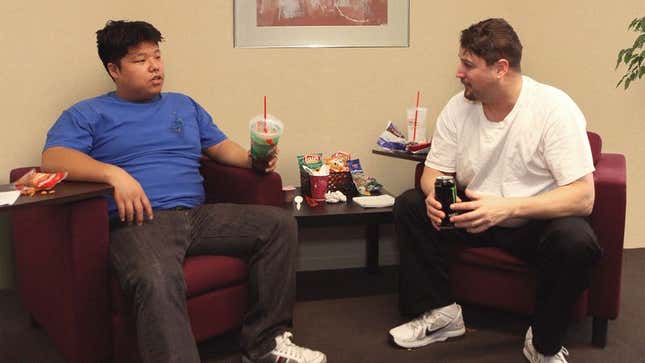 BRISBANE, AUSTRALIA—In an effort to strengthen diplomatic ties between the global superpowers' most oafish representatives, sources confirmed Thursday that schlubs from the United States and China met in Australia this week for a series of lowest-level talks.
This Week's Most Viral News: September 22, 2023
The noisy, poorly dressed delegations, which convened for multiple sessions of bilateral discussion at a Best Western motor inn just outside Brisbane, reportedly addressed a range of issues important to schlubs in both countries, including reducing tariffs on microwaveable mozzarella sticks, establishing worldwide manufacturing standards for foam beer koozie production, and generally fostering a spirit of goodwill and cooperation within the international slob community.
"Since they arrived to the talks dragging their duffel bags behind them after disembarking at the wrong bus stop, envoys from both nations have appeared strongly committed to finding common ground," said political analyst Catherine Burke, noting that, aside from a brief recess during which the delegates withdrew to a nearby mini-mart in order to procure Pall Malls and $2 scratch-off tickets, the schlubs have engaged in constructive dialogue. "In fact, a major breakthrough was achieved on the very first day after [schlub ambassadors] Peng Wu and Carl Savelli retired to a nearby bowling alley to play Photo Hunt on a coin-operated touchscreen machine and ironed out a framework for providing comprehensive subsidies to both countries' sweatpants industries."
"Though the talks have at times been strained over the issue of U.S. debt stemming from the Chinese delegates' purchase of several cases of Miller Lite, both sides are making great strides toward normalizing Sino-American schlub relations," she added. "Today's joint resolution to diversify vending machine options in both countries was a huge step forward."
According to observers, the three-day summit began with a photo op in which the schlub diplomats posed together while wearing recently purchased "Everything's Bigger Down Under" T-shirts and blinking just as the camera flashes went off. U.S. schlub emissary Lenny Robinson then presented his Chinese counterpart with welcoming gifts that included a partially spent $25 Dunkin' Donuts gift card and a VHS tape of Tremors recorded from a recent TNT broadcast.
Immediately thereafter, the schlubs reportedly initiated a closed-door conversation focusing on such agenda items as opening Chinese markets to duty-free imports of American-made Fathead wall decals and lifting economic sanctions imposed on the East Asian nation for its infringement of numerous handheld blackjack game patents.
Additionally, aides confirmed that the delegates later authorized a foreign aid package in which they committed a combined $156.45 in loose bills, change, and postdated checks to assist schlubs from developing nations in paying several public urination citations.
After ratifying the historic accord, sources reported that the delegates adjourned to go swimming in the Best Western's indoor pool wearing only their boxer shorts.
"A lot of this complicated political stuff gets pretty boring, but I'm willing to work with these Chinese guys for as long as it takes or until I get tired," said U.S. ambassador Ralph Haney, one of several signatories on a bilateral pact condemning Russia's schlubs for reneging on their commitment to attend a recent outing to Buffalo Wild Wings. "We talked about setting up an arena football franchise in Tokyo [sic], which would be awesome, because then they could get us good tickets and we could all go together. That's what diplomacy's all about."
According to sources, the first day's negotiations concluded with a ceremonial dinner held at a nearby bar and grill, during which the U.S. and Chinese schlubs discussed the potential GDP gains offered by a work-from-home online-survey-taking venture as they dined on a lavish spread of pizza rolls and loaded potato skins.
Sources confirmed, however, that the summit was derailed on several occasions over lingering disagreements between the two parties, most notably the refusal of both delegations to cover the $12.95 cost of a pay-per-view showing of Traci Lords Undressed, which was reportedly watched by several diplomats from both sides in Chinese schlub Bao Qing-lai's motel room. Additionally, sources confirmed that an unresolved debate over who ranked as the best wrestler among the WCW-era Four Horsemen led several U.S. schlubs to storm out of the conference room in anger.
"While we've made considerable progress this week, the Americans must be willing to meet us halfway on key issues, such as sharing crucial Barcalounger technology with our engineers," Chinese schlub Longwei Hao said while filling a plastic grocery bag with complimentary muffins and individual-serving boxes of Froot Loops from the hotel's continental breakfast counter. "And until the U.S. delegation establishes a firm timetable for syndicating Storage Wars in China, there can be no true partnership between our nations."
At press time, following the summit's conclusion, sources confirmed that nearly all of the U.S. and Chinese schlubs had arrived several hours late for their flights home and were sleeping on the floor at Brisbane Airport.