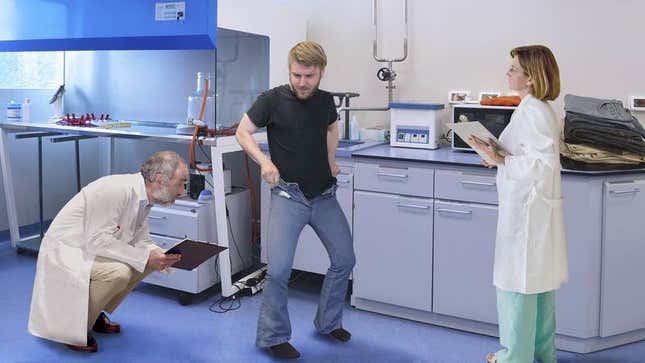 PHILADELPHIA—An international team of scientists reported this week that they remain completely mystified by Lancaster, PA resident Brandon Holland, a man who inexplicably wears a size 32 in some pants and a size 33 in others.
Americans Describe What It's Like Surviving A Mass Shooting
Dr. Alan Nolan, a biophysicist at Drexel University who has led research efforts into the puzzling phenomenon, told reporters that systematic observation and data analysis have failed to adequately explain how the subject could possibly fit into size 32 jeans mere moments after comfortably wearing a pair of size 33 khakis. According to Nolan, a broad array of hypotheses, ranging from Holland wearing a belt with the size 33s to Holland ingesting a large quantity of food or drink between putting on the size 32 and 33 pants, have all been ruled out, leaving the research team at a complete loss.
"For 16 months, we've painstakingly conducted a battery of tests using every conceivable variety of pants, and we still haven't determined how the same man could fit into slacks with a waist of 32 as well as trousers in 33," said Nolan, confirming that the two differently sized pants were neither too tight nor too loose on Holland, with both sitting comfortably about his waist without any need to be adjusted or periodically pulled up. "Our test subject is truly a scientific marvel. We've held double-blind clinical trials and somehow produced the same results time and time again. The 33-inch chinos from the Gap were even a little snug compared to 32-inch pleated Dockers."
"It defies physical law," added Nolan. "This is completely shifting our fundamental understanding of pants."
Nolan confirmed that the team of scientists tested various jeans, khakis, and corduroys against a pair of control pants, a size 28 from Kohl's, which consistently did not fit the subject in any trial. According to the researcher, the control pants created a baseline for the experiments and proved the validity of tests in which pants with a 32-inch waist and 33-inch waist were administered to Holland and carefully examined for comfiness, tightness around the hips and thigh, and the subject's ability to zip and button the fly without having to suck in.
Throughout their rigorous pants testing, the researchers said they closely monitored Holland's weight, pelvic density, body mass index, and fluid retention, but detected no inconstancy in the subject's physiology that might skew the reliability of the results.
During a separate six-month-long investigation, the scientists confirmed that they carefully scrutinized the labels on the pants thousands of times and contacted manufacturers to verify that the numbers on the pants indeed indicated the pants' size.
"Despite widespread speculation among members of the scientific community that the pants may have been mislabeled, researchers have eliminated that possibility with a 99.9 percent certainty," said a visibly shaken Nolan. "We did remove a pair of cargo pants from the trials, however, because the drawstrings produced misleading data."
"Perhaps even more baffling is that the subject maintained a constant 30-inch inseam," continued Nolan. "Unfortunately, modern science offers no answers on this particular phenomenon."
In another shocking discovery that rocked the scientific community, researchers found that the same subject appeared to inexplicably slim down while wearing shirts with vertical stripes.