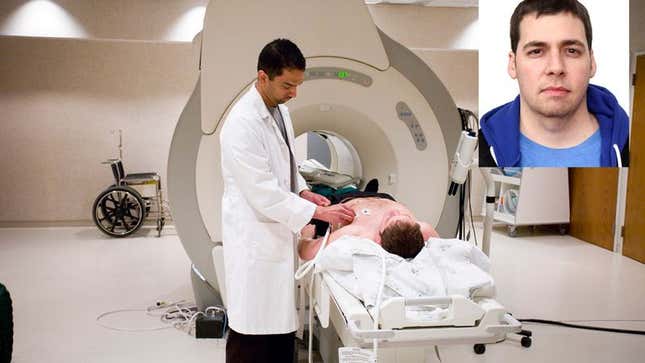 BALTIMORE—Neurologists at Johns Hopkins University confirmed Monday they remain completely baffled by Rockville, MD resident Erik Collins, a man who possesses an extraordinary and previously undocumented ability to fuck everything up.
According to Dr. William Moore, head of a research team studying exactly how Collins manages to drop the goddamn ball every single time, the 32-year-old sales associate represents a major conundrum for modern science.
"We've never seen these cognitive abilities in a human subject before," said Moore, adding that Collins invariably misses important appointments, fails to call loved ones on their birthdays, and runs out of gas at busy intersections. "Probability dictates that even the biggest fuckups should occasionally get things right, if only by accident. But not Erik. We observed him making breakfast in 72 experimental trials, and 72 times he ended up with an inedible gray mush."
"Seriously, how does anyone screw up toast?" Moore added.
In their attempt to study the brain mechanisms required to perform such simple tasks with so little competence, researchers were unable to use standard neuroimaging techniques, as Collins inadvertently destroyed the lab's $250,000 MRI machine by using a handheld video-game device during a routine cortical diagnostic.
As a result, Moore's team opted for an observational approach and eventually discovered that Collins was capable of fucking things up even when he appeared to be doing nothing: Seated passively in a chair, he would forget to shift his weight to keep his limbs from falling asleep, or accidentally bite his tongue really hard, wincing from the unexpected pain.
"Our theory is that Erik approaches fucking up unconsciously, his mind automatically creating a fractal model of screwing the pooch that is not unlike the infinite images contained within facing mirrors," Moore said. "If Erik has to make a withdrawal at an ATM, for example, he begins with a simple fuckup, such as accidentally selecting the Chinese language option. Then, instead of starting from the beginning the way an average individual would, he instinctively plows forward, creating concentric rings of fucking-it-up within his original mistake until eventually the machine has confiscated his debit card and his account has been frozen—and that's just the beginning of a weeks-long mega-fuckup that continues once he attempts to call his bank."
Collins reportedly first came to the scientific community's attention late last year when, in a simple attempt to download pornography from the Internet, he somehow managed to crash a highly secure server in Fermilab's particle physics department.
After using powerful computer models to map the enormously complex series of fuckups necessary for a person to have accomplished this, researchers obtained the address of Collins' Maryland home, and later tracked him down in an emergency room to which he had just been admitted following a lawn- mowing mishap.
Where this one man's massive clusterfucks originate is still a mystery, but scientists have hypothesized that each individual fuckup may compound itself exponentially, expanding in every conceivable direction until a given situation is no longer salvageable. Moore said this phenomenon is most evident when Collins interacts with women, his intricate and novel behavioral patterns simultaneously evoking rage, confusion, revulsion, and indignation.
"Have you ever seen anything like it?" a visibly bemused Moore said while showing reporters a video in which Collins, attempting to impress a woman in a bar, chokes on his drink, spits up in her face, and then pokes her in the eye while trying to dry her off with her own scarf. "Unbelievable."
Moore admitted that it might be years before neurologists unravel the full workings of Collins' brain, due in large part to delays caused by their subject's inability to arrive at the facility without getting lost several times and having to repeatedly call for directions.
Despite all the attention his unique cognitive attributes have garnered, Collins, for his part, remains humble. According to the fuckup savant, his exceptional aptitude doesn't make him feel particularly special or different.
"I don't know, okay? I just do it somehow," Collins said. "Now can you please call the janitor or a locksmith or do something to get me out of here?"