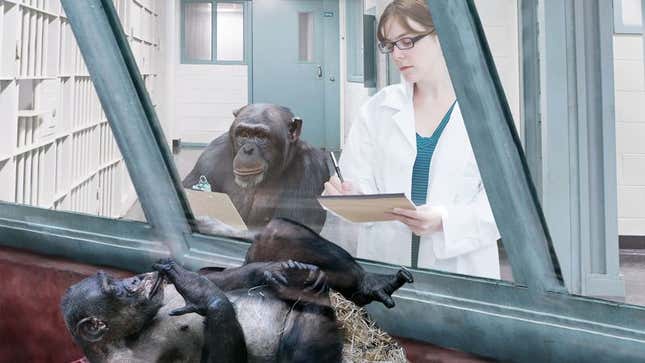 SEATTLE—In what the scientific community has hailed as a breakthrough achievement, zoologists have succeeded for the first time ever in training a chimpanzee to carry out a rigorous three-year study of primate behavior.
This Week's Most Viral News: September 29, 2023
Researchers at the University of Washington reported Thursday that Mokoko, a 7-year-old chimpanzee in the school's animal cognition laboratory, has learned to make systematic observations and collect data on other chimpanzees, conducting experiments with no assistance from human scientists.
"We're excited Mokoko has learned to do research and really, really hoping she'll continue to turn in thorough, dependable primate studies," said Professor David Indela, who heads the lab. "Her impressive spatial reasoning skills and aptitude for problem solving make her well-suited to the work of a scientist. Her sign language is exceptional, too, whether she's indicating that an experiment is methodologically unsound or simply asking for more peanut butter and apple sauce."
Noting that chimps share more than 96 percent of our genetic code, Indela said he long ago became curious as to whether the animals could be taught to engage in behaviors typically considered the exclusive terrain of Homo sapiens, such as designing studies that further our understanding of chimpanzee behavior, applying complex statistical models to data on chimpanzees, and even filling out paperwork to ensure compliance with the Animal Welfare Act.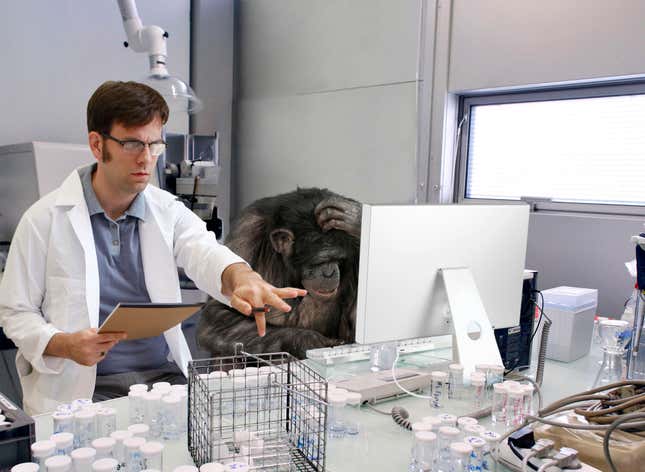 According to her caretakers, Mokoko's training initially focused on the simplest research tasks—for example, the scientists began by rewarding her with fruit juice each time she successfully taught chimpanzees to press a series of buttons by rewarding them with fruit juice.
"Once Mokoko was competent enough to conduct an in-depth, hands-on study by herself, we taught her how to delegate the more routine tasks to undergraduate assistants," Indela said. "This allowed her to devote more time to her other responsibilities, which now include applying for supplemental grant money from the National Institutes of Health, attending academic conferences, and teaching an introductory lecture course on primate psychology every semester."
"I'm proud to say Mokoko has now given us a decent little paper on chimpanzee behavior that I'm hoping I can publish in one of the major journals," he continued.
Indela's colleagues confirmed Mokoko has even become adept at the higher-order reasoning skills required to navigate departmental politics and keep their tenure board placated.
While the pressure to publish has reportedly been a source of stress for Mokoko in recent weeks, causing the chimpanzee to smash laboratory equipment and climb up her swinging rope to the most remote part of her habitat, Indela said he still believes she has a great career ahead of her.
"Conceivably, chimpanzees may be able to perform human tasks that allow them to dress us every morning, drive us to work, and even do our laundry and income taxes for us," said Indela, emphasizing that, in theory, the animals could perform each of these tasks while wearing little chimpanzee-sized shirts and hats. "The possible applications for this research are truly very exciting."
The project has drawn widespread praise from most scientists, despite recent criticism in a letter to the journal Nature written by an orangutan whom Harvard University primatologists have trained to denounce colleagues' studies on ethical grounds.