WASHINGTON, DC—In an effort to increase voter participation while generating additional revenue, several state election boards announced plans Monday to introduce new Scratch 'N Win ballots in November, giving citizens the chance to  win the right to vote in the 2006 elections.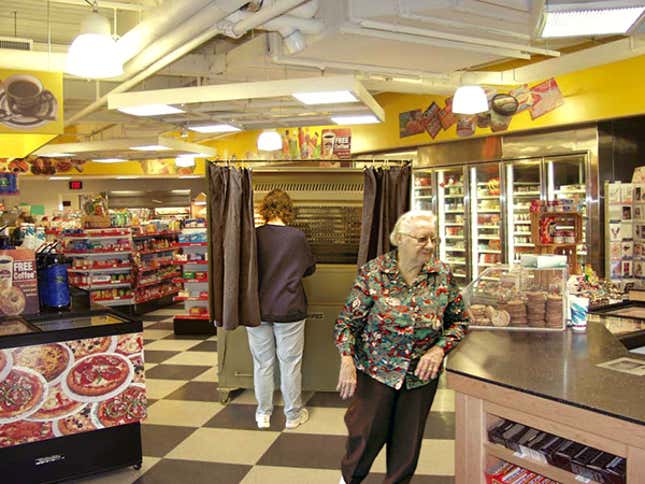 Study Finds LSD Highly Effective At Ruining Nephew's Baptism
The ballots, which will retail for $1 and go on sale the morning of Nov. 7, are small three- by two-inch cards with a "prize area" obscured by a thin silver coating. Voters will scratch off this area and can win by matching three vote amounts, which will range from one to 1 million.
If the voter scratches off the "wild card" symbol—an elephant silhouette—they instantly win 10,000 votes for their state's Republican candidate.
"These new ballots will appeal to groups that don't ordinarily get to the polls, such as our disabled and lower-income citizens," said Gloria Weinstein, chairman of California's Board of Elections. "All you need is a dollar and a dream, and your voice may finally be heard."
"You can't vote if you don't play!" Weinstein added.
If the state trials are successful, a nationwide Powerballot drawing will be held for the 2008 presidential elections. The grand prize will be 250 million votes.
Nevada has been using this system since the 2000 elections with mixed results. That year, Sen. John Ensign (R–NV) defeated his Democratic opponent by over 30 million votes, a result he called "an amazing stroke of luck."
While the Scratch 'N Win ballots have produced several heartwarming stories of big vote-winners, Boston University political-science professor Paul Sherwood claims that many who have won hundreds and even thousands of votes "just end up wasting them."
"People always say that if they win a lot of votes, they're going to use them for a good cause, or share them with others," Sherwood said. "But in many cases, they blow them all impetuously on something like the county-coroner election."
"In one particularly sad instance, a man from Carson City used all 420,000 of his votes to elect himself Elko County sheriff, a position from which he resigned two weeks later to resume his job as a car salesman," Sherwood added.
The scratch-off voting system has worked well since its initiation, though naturally there have been some complications. In 2002, election results had to be overturned in December when an unidentified man with a decisive 750,000 votes found his unscratched, unredeemed ballot underneath a pile of change on his dresser.
Sherwood cited several other cases of Scratch 'N Win voting mishaps, including hundreds of ballots that had not been scratched all the way through and could not be read by the electronic vote-counting machines in convenience stores across the state; a Reno man who requested a lump sum of votes after winning the full million, only to have nearly half of them taken out in poll taxes; and a group of four friends who pooled their money to buy 100 ballots and won a total of 3,200 votes, but could not agree on a candidate.
Despite the risks and challenges presented by changing over to Scratch 'N Win voting, Nevada Board of Elections chairman Mark Hossler said there are many distinct benefits to these point-of-purchase polls.
"Our research shows that citizens over the age of 55 had traditionally found our ballots confusing and disorienting, but ever since we introduced Scratch 'N Win ballots, they seem to enjoy and understand voting more than ever," Hossler said. "Oftentimes, they'll buy up to 20 ballots at once."
Those who play and fail to win any votes may not be completely disenfranchised, as many states are implementing a mail-in program in which the losing ballots will be entered into a drawing to win a possible three-fifths vote, redeemable at next year's county-level elections.
Officials at the U.S. Federal Election Commission stressed that voting should be used for entertainment purposes only, saying that the actual odds of a citizen making a difference are 1 in 440,000.