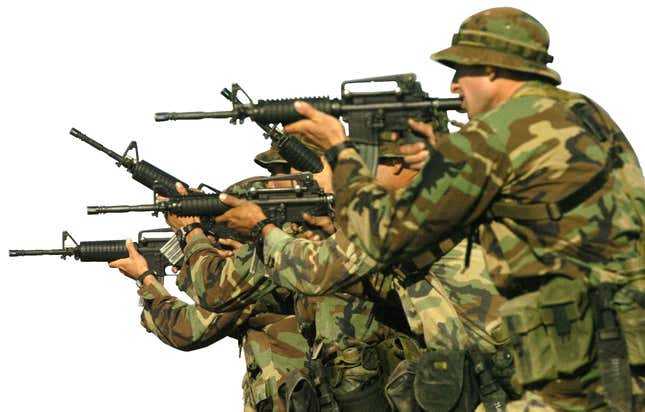 Last week, SEAL Team Six, the Navy strike force responsible for killing Osama bin Laden, rescued two humanitarian aid workers who'd been taken hostage by Somali pirates. With such a stressful line of work, the team needs a little down time now and then. Here's how the elite military squad unwinds:
Spending a nice relaxing day at the beach, completely undetected and unseen
Hanging curtains and catching up on HGTV, solely to get their testosterone down to safe, medically acceptable levels
Putting .50-caliber slugs in a tree inches above an unwitting neighbor's head while he naps in his hammock
Remembering how awesome it was to kick down that door and put a bullet through bin Laden's head
Getting their asses kicked by 12-year-olds while playing SOCOM: U.S. Navy SEALs online
A lot less swooping into places and more just strolling in and saying "hey"
Busting each other's chops, but in a way that doesn't end in death or paralysis
Staging Oscar Wilde comedies at the ultrasecret SEAL Repertory Theater
Ordering things online, waiting motionless in the bushes for days until the UPS guy comes
A little quality time with the family, playing some Russian roulette in the garage wearing nothing but underwear, thinking about all the horrible things they've seen and done.
This Week's Most Viral News: September 22, 2023