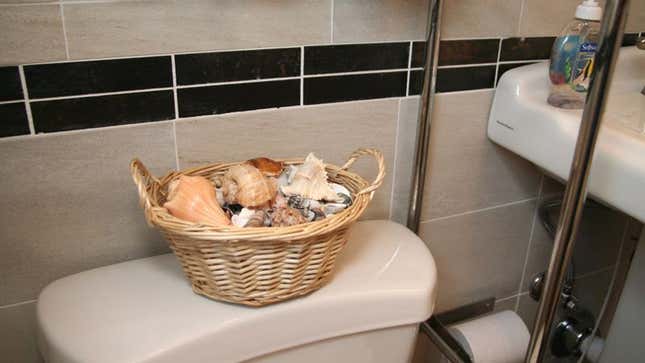 WOODMERE, OH—-A wicker basket filled with seashells and placed on top of a toilet tank has magically transformed Dale and Paula Watson's suburban bathroom into a serene tropical oasis, sources reported Thursday.
This Week's Most Viral News: June 9, 2023
"I can't believe the difference adding those seashells made," said Paula Watson, who had somehow been transported from a beige, run-of-the-mill bathroom to an unforgettable island paradise thousands of miles from the Greater Cleveland area. "Every time I walk in here now it's like, 'Wow, where am I? Cancún?'"
According to household sources, the extraordinary transformation took place at approximately 10:32 a.m., when Watson neatly arranged a handful of seashells inside a round wicker container and looked up to suddenly find herself at a beachside resort where all the troubles of modern life just melted away.
The magical seashells, which are able to conjure up the cool, tropical breeze of a seaside cabana, were personally gathered by the couple during a recent trip to Myrtle Beach.
"It's like our own little island getaway right at home," said Dale Watson, who stood as if surrounded by palm trees and soft white sand beaches in the spot where there had only been a shower mat and curtain before. "I feel like I should be eating grilled mahimahi right now."
"This is the way life should be," Watson added. "Time just slows down in here."
Eyewitnesses agreed that by merely gazing upon the seashell centerpiece, one is whisked away to an enchanted garden, lush with exotic flowers, fluttering hummingbirds, and shirtless natives whose brown skin glistens with sweat as they present trays stacked high with pineapple, mango, and tender cuts of pork.
Guests of the Watson home have confirmed that visiting the tropical utopia, which is lo≠cated at the end of the hallway, second door on the left, light switch above the sink, is a breathtaking experience they will never forget.
Grandmother Ilene Watson, 77, said she could spend the rest of her life in the carefree bathroom environment without complaint.
"It's so exotic," the mesmerized septuagenarian said. "Just like when Harold and I used to go traveling after the war."
Although delighted with the transformation, Paula Watson said she had plans to improve the 80 square feet of island paradise by adorning the blissful space with vanilla-scented coconut candles, a ceramic clown-fish figurine, and sand-dollar shaped soaps.
"I love our secluded little vacation destination, but we can always spruce it up a little," Watson said. "It would be neat to get a large glass container and fill it with beach sand, a piece of coral, and more seashells."
"It's like bringing the Pacific Ocean to us!" she added.
Watson also admitted she's had her eye on a nautical-themed light-switch-plate cover featuring a seahorse, which would further transform the tropical hideaway into the magnificent kingdom of Atlantis, a stunning underwater realm where dolphins and mermaids dance and play.
This is not the first time that Watson's home has undergone such an incredible metamorphosis. In 2004, a framed painting of two deer instantly turned the family den into a rustic hunting lodge, while in 2005, the corner of the living room became an old English cottage after a porcelain tea set and a vase with dried flowers were added to an end table.
At press time, the tranquility of the secluded tropical getaway had been shattered when Paula Watson walked in on their 16-year-old son, Christopher, masturbating to an old issue of Good Housekeeping.