'I Still Can't Believe The President, Vice President, Speaker Of The House, President Pro Tem, Sec. Of State, Sec. Of The Treasury, Sec. Of Defense, And Attorney General Were All In That Hot-Air Balloon,' Says New President Sally Jewell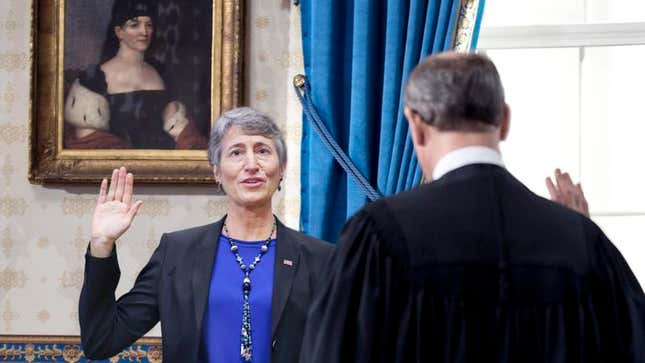 Study Finds LSD Highly Effective At Ruining Nephew's Baptism
WASHINGTON—Secretary of the Interior Sally Jewell was sworn in today as the 45th president of the United States, reciting the oath of office in a brief ceremony at the White House and expressing her continued disbelief that the president, vice president, House speaker, president pro tempore of the Senate, Secretary of State, Secretary of the Treasury, Secretary of Defense, and attorney general were all in that hot-air balloon together.
Speaking to citizens in a short inaugural address, Jewell, a 57-year-old Seattle businesswoman who was confirmed as Interior Secretary less than three weeks ago, acknowledged the challenges ahead for the nation and noted how "really quite strange" it was that Barack Obama, Joe Biden, John Boehner, Patrick Leahy, John Kerry, Jacob Lew, Chuck Hagel, and Eric Holder mutually agreed to take the day off and rent a hot-air balloon for the afternoon.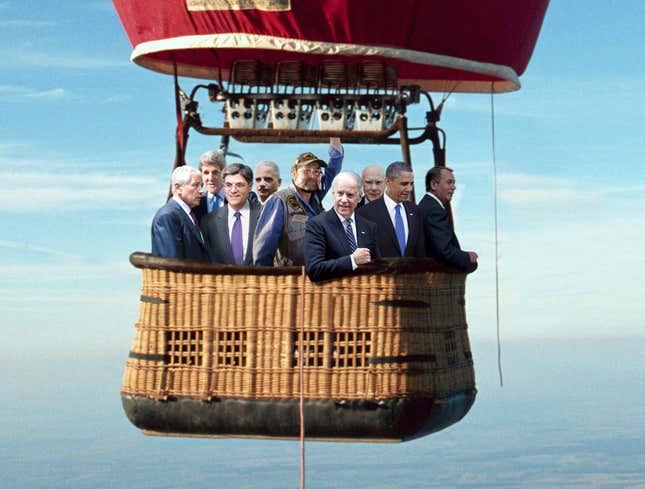 "It is with both humility and gratitude that I assume this office, while extending my deepest condolences to the families of Barack Obama and the seven government officials directly before me in the presidential line of succession, who, for reasons that still aren't entirely clear, decided to drive together to a fairground outside Washington and take a two-hour hot-air balloon tour of the Virginia countryside," Jewell said in her speech, delivered less than a day after the country's top politicians reportedly agreed on a whim that a communal balloon ride would be "a lot of fun." "I never expected to be in this position, especially not under circumstances in which our nation's highest leaders died on the same day in an accident involving a hot-air balloon, which, for some reason, all eight of them willingly piled into even though it was clearly posted that the maximum occupancy was four. You have to admit, it's very bizarre."
"I mean, how many hot-air balloon crashes are there a year?" she continued. "And how many of them involve even one person who is indispensable to the nation's government, let alone nearly all of them? That is a little weird, right?"
Throughout her speech, the former REI executive repeatedly praised the strength of the American people, pledged to stand up for all citizens, and reiterated her astonishment that the eight top U.S. politicians, when advised by the aircraft's pilot that they should split up and take more than one balloon, reportedly responded by casually shaking their heads and saying "Nah."
According to Jewell, adding to her bewilderment was the fact that the men were neither barred from the outing nor even moderately discouraged by aides or Secret Service agents. Rather, reports indicate that members of the officials' security details simply smiled and happily waved to the two highest officeholders of the executive branch, the two leading figures in Congress, and four top cabinet members as they crowded into the balloon's basket and began to ascend.
"What's particularly odd is that these officials weren't even ordered into the balloon by President Obama; it was Chuck Hagel's idea, and everyone else readily went along with it of their own will," said President Jewell in front of framed portraits of the deceased men. "And given that the president and vice president aren't even allowed to fly in the same plane for safety reasons, it's truly shocking that, instead of reconsidering their actions when John Kerry had a brief moment of trepidation before stepping aboard, they all just said, 'It's fine! You're going to love it!'"
"And the next thing you know, there they are, rising to 500 feet in that cramped, bulging basket, smiling and laughing without a concern in the world," Jewell added. "Looking at it now, it all seems incredibly foolhardy, if not almost entirely improbable."
Those who attended Jewell's inauguration said the ceremony was surprisingly upbeat considering the previous day's tragic and admittedly peculiar incidents, which also included the deaths of Jewell's first 14 picks for vice president, all of whom happened to die in 14 consecutive unrelated hot-air balloon accidents within the span of three hours. During the ceremony, Chief Justice John Roberts, who administered the presidential oath, noted the extraordinariness of the occasion. "Today is historic on two accounts, the first being that President Jewell is the first woman ever to preside in the Oval Office," Roberts said. "But it's also historic because of how she attained this office: by default after everyone in line for the presidency before her was curiously wiped out at the same time, and in the same obscure, antiquated mode of transportation no less."
"Also, by the way, all eight men had very important business to attend to that day, which they all inexplicably agreed to cancel in order to take a hot-air balloon ride together, despite none of them ever before expressing any interest whatsoever in ballooning as a hobby or an activity," Roberts continued. "But that's what happened. Apparently."
In her closing remarks to the nation, President Jewell said she hoped Americans would take away several lessons from the day, the foremost being that under no circumstance should the United States' highest-ranking government officials ever get into a hot-air balloon together again.
Jewell then thanked citizens and noted it was even more unusual that she had become president when, having been born in England, she was technically ineligible for office.