BALTIMORE—Transportation Secretary Ray LaHood went off on a 22-centimeter-wide, 8-centimeter-deep pothole Wednesday, calling it a "goddamn disgrace" and a "real piece of work that's out to make [him] look like a fool."
According to onlookers, an incensed LaHood lit into the pothole located on Baltimore's West Pratt Street for more than 45 minutes, screaming himself hoarse and repeatedly telling the concrete depression that it was "un-fucking-acceptable" for it to have any sort of pavement erosion at all, let alone enough to a cause bumpy driving experience or a potential flat tire.
Sources later confirmed that at one point during the tirade, LaHood got down on both knees and flipped off every crack, crevice, and piece of displaced asphalt in and around the pothole.
"The secretary was not pleased when he was informed of the pothole," Transportation Department chief of staff Joan DeBoer said of LaHood, who reportedly began his diatribe by walking directly up to the fatigued road surface and asking it straight up who the hell it thought it was, and whether or not it even wanted to be a part of the nation's road system anymore. "We told him we would take care of it, but he was so angry he got into his car and drove right to Baltimore. He said he wanted to ream out the pothole in person."
G/O Media may get a commission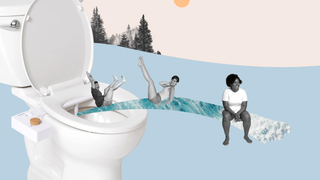 17% off
Tushy 3.0 Warm Water Spa Bidet Attachment
"I would not want to be that pothole right now," DeBoer added.
While the ticked-off LaHood railed against the 3-inch-deep fissure for what he called a complete lack of respect for the country's commuters, roads, and, by extension, LaHood himself, he also referred to the pothole by a range of derogatory names, including cocksucker, dipshit, shitface, wheel whore, and stupid asshole.
Accusing the pothole of undermining everything he had been trying to accomplish since his appointment in 2009, the transportation secretary said that it was in "huge fucking trouble," and that if it was looking to gain his attention, "Mission accomplished." Though he acknowledged some pavement deterioration was bound to occur on his watch, LaHood did not let the Baltimore pothole off the hook, blasting the miniature chasm both for having the nerve to form on a "rinky-dink" side street, and for being a little bitch that can't even handle 760,000 pounds of traffic per day.
LaHood, who at one point had to be held back by an aide when it looked as if he was going to "haul off and punch" the pothole, added that if the surface abrasion thought for one second it was going to grow larger due to increased moisture in the spring air or greater wheel loads, it "had another fucking thing coming."
"He said that maybe the pothole should have to fill its own goddamn self, and that maybe that would teach it a lesson," said Baltimore resident Dan Jacobs, adding that LaHood then started walking away from the pothole but soon sprinted back and told it that it was completely nuts if it thought it was going to get off that easy. "He really gave that pothole a piece of his mind."
Sources confirmed that toward the end of his rant, LaHood began to calm down, and, in an attempt to level with the pockmarked roadbed, explained that he wasn't so much angry as he was disappointed.
LaHood also admitted there was a chance the stress of his job could have contributed to his outburst, which he noted was not very fair to the pothole.
"You can't be doing this, you know?" an exhausted LaHood was reportedly overheard to say while sitting next to the pothole. "Especially now when we've got so much going on—increased safety standards, carbon monoxide emissions. Do you know how many more cars are on the road now as opposed to just five years ago? Let's just put it this way: too many. I'm sorry for chewing you out like that in front of everyone, but we all have a part to play, and this transportation system is only as strong as its weakest component. If you help me out, I'll help you out. How's that sound?"
"All right," he added before dusting of his pants, getting in his car, and driving back to Washington, D.C.