CEDAR RAPIDS, IA—In the wake of the Sept. 11 terrorist attacks on the World Trade Center and Pentagon, the Cedar Rapids Public Library is undertaking steps to tighten security, library officials announced Monday.
"As caretakers of the most prominent public building in the second largest city in Iowa, this library can no longer afford to take chances," library director Glenda Quarles said. "Due to our limited budget, we can't devote the kind of resources and manpower to security that, say, the Library of Congress can. But because of our high profile and easy access, we feel a strong responsibility to ensure the safety and well-being of those members of the public who visit and use us."
Quarles said that on the day of the attacks, she ordered the library closed. The following day, she called a special meeting with department heads and library-board members to discuss what changes needed to be implemented to help prevent an act of violence from happening there.
The first move, Quarles said, was to upgrade the library's 11-year-old security system. The current system consists of an entrance alarm armed after closing, an anti-theft detector located in the exit aisle, and three surveillance mirrors mounted in various corners of the library. Quarles said that a new, "far more advanced system" will be installed by the end of October at a cost of $71,000.
The library also plans to hire a part-time security guard. Marlin Pendergast, 44, of Per-Mar Security, will divide his time between the library and Applegate Mall, where he patrols the food court every weekday afternoon.
G/O Media may get a commission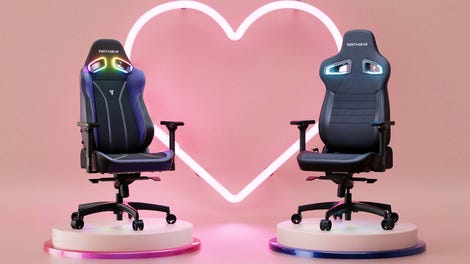 Up to $150 off
Vertagear Gaming Chairs
"Last week, one of the commentators on TV said a very smart thing: He said that the CIA made a mistake in recent years by relying too much on technology and moving away from human counterintelligence," library-board president Mary Beth Dutler said. "That's why, while an improved security system is important, it's still vital to have an actual person there to keep an eye on things. Marlin will be able to see things a camera simply can't."
Library employees, Quarles said, are also being asked to increase their on-the-job alertness, as they are "on the front line of library security."
"I've told my staff to keep their eyes and ears open for any suspicious behavior, and to not hesitate to report it to me, no matter how trivial it may initially appear," Quarles said. "They really are our best defense."
As an added security measure, the overnight book-depository box will be permanently sealed.
"I know this may inconvenience some of our patrons who want to return materials after hours, but we just can't take any chances," Quarles said. "Pranksters slip things like gum wrappers and lollipop sticks through the outside drop slot all the time. It doesn't take too much imagination to envision someone inserting a small bomb with a timed detonator in there. It's unthinkable, but these days we have to consider the unthinkable."
During the Sept. 12 meeting, library officials took a walk around the library, examining its current state of security. They were appalled by what they found.
"Even though they'd been up for years, no one ever really looked at the surveillance mirrors," said reference-desk librarian Joanne Paul. "But as we were walking around the place, I realized that the mirror in the corner closest to the reference section wasn't even angled correctly. I could see the tops of the shelves and part of the ceiling, but nothing else. I'd never noticed it before, but what's the use of having the mirror if you can't see people who are up to no good?"
Quarles said that the library's locks will also be changed, as key accountability has grown "a little lax" in recent years.
"There are several former employees who never surrendered their keys upon quitting, and since we unfortunately have a locksmith down the street who's willing to overlook the 'do not copy' imprint on our master set, a lot of illicit key copies are floating around out there," Quarles said. "I take the blame for that one. Well, after we get the locks changed, only senior staffers will possess keys. Absolutely no exceptions. This is the 21st century now. Things have changed."
A number of the new security measures will directly affect the public: It will now become more difficult to obtain a library card, requiring a birth certificate and two forms of photo ID. The daily children's story hour has been shortened to 20 minutes. And while the library has always officially had a no-loitering rule on the books, it will now be strictly enforced.
Cedar Rapids residents are praising the security upgrade as a necessary response to the events on the East Coast.
"Some people might consider the prospect of metal detectors and three forms of ID for library cards a bit extreme, but we're living in a whole new world," longtime resident Frank Gonitz said. "The way I figure, if you've done nothing wrong, you have nothing to hide, right?"
"I can't believe just three weeks ago, I was naïve enough to believe that a library was a safe sanctuary for quiet reading and contemplative study," said Melinda Wallach, 52. "Maybe one day, things will return to normal. But I think the lesson here is, if it can happen at the Pentagon, it can happen anywhere."