SEATTLE—Baseball fans across the nation admitted Monday that the sight of Ken Griffey Jr. in a backwards baseball cap—an iconic image that once filled fans with joy and promise and a feeling that maybe, just maybe, eternal youth was possible—now makes them feel completely and utterly depressed.
"To see him wear his hat like that is actually heartbreaking," 27-year-old Seattle resident Peter Morley said of Griffey, who is hitting .152 this spring training. "It just doesn't look right anymore, you know? It doesn't look natural."
"Maybe it's because his face is fatter," Morley added.
As the 40-year-old Griffey begins his 22nd season, fans say the sight of the once-lean five-tool player flipping his cap around is no longer synonymous with athletic excellence, infinite potential, or effortless cool. Instead, they claim it is a sad reminder of how time takes its toll on the body, how we try to relive our former glory but never quite do, and how the prime of our life passes in an instant.
Fans also say that Griffey's backwards cap reminds them, especially those of them in their mid- to late 20s, that their childhoods are most definitely over.
"This is going to sound weird, and I can't quite describe why, but seeing Griffey with his hat backwards used to make me feel like summertime. Does that make any sense?" said a fan, who wished to remain anonymous, adding that 16 years ago he purchased a fitted Seattle Mariners cap and wore it backwards every day to emulate Griffey. "I can't believe I'm saying this, but now I wear my hats forwards simply because he still wears his hat backwards. It's just too painful."
G/O Media may get a commission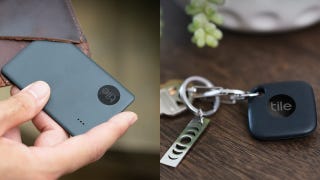 Up to 35% off
Tile Item Trackers
Fans say the sight of Griffey in a backwards hat was most uplifting in the early to mid-1990s, before his move to Cincinnati. Their joy at seeing his face beneath the bill-less cap reportedly peaked during the 1993 Home Run Derby when Griffey, hat turned round on his head, became the first player to hit the warehouse beyond the right field fence at Camden Yards.
However, during Griffey's injury-plagued seasons from 2000 to 2007, the sight of the backwards hat caused feelings of frustration, anger, and hopelessness, and eventually became associated in their minds with countless utterances of the phrase, "Get up, you're fine. Please get up. Oh, God."
The moment of complete and utter despair came yesterday as Griffey hit a now-rare home run during batting practice and cheering fans realized they were fooling themselves into thinking 2010 would be a fairy-tale season.
"I honestly believed that, when he returned to Seattle last year, seeing his Mariners hat turned backwards again would make me feel better," said Seattle resident David Jaffe, adding that the sight of Griffey in a backwards White Sox cap sent him into a downward spiral he'd like to forget. "But when I actually saw him it just made me more upset. It finally dawned on me that I'm this pathetic guy trying to recapture a moment in 1994 that will never exist again."
According to a Sporting News poll, 43 percent of baseball fans can't even bear to look at Griffey wearing his hat backwards. Another 24 percent say the visual reminds them of torn hamstrings. And 33 percent of respondents said that images of Alex Rodriguez, Prince Fielder, or CC Sabathia wearing their hats backwards just aren't the same, and actually make things much worse.
One hundred percent of respondents said they'd like to see Griffey play 10 more years and break every record there is, adding, "Fuck you if you don't believe he can do it."
"You know what? I saw a recent picture of him with his hat backwards, and if you looked at it from the right angle, you could believe he had just one chin, and the gray hairs in his goatee were actually nothing more than the spring sunlight shining through," said Michael Dorenzo, who, despite being from New York, is a hardcore Seattle Mariners fan because of Griffey. "He was 'The Kid' again."
"Jesus Christ," he continued, suddenly growing morose. "Who am I kidding? I guess we all have to die some day."
When asked for comment during a press conference yesterday, Griffey, his hat backwards, smiled broadly, and for one brief moment appeared to be the same man who led Seattle to the ALCS in 1995.
He then coughed wildly, sending the cap flying off his head.