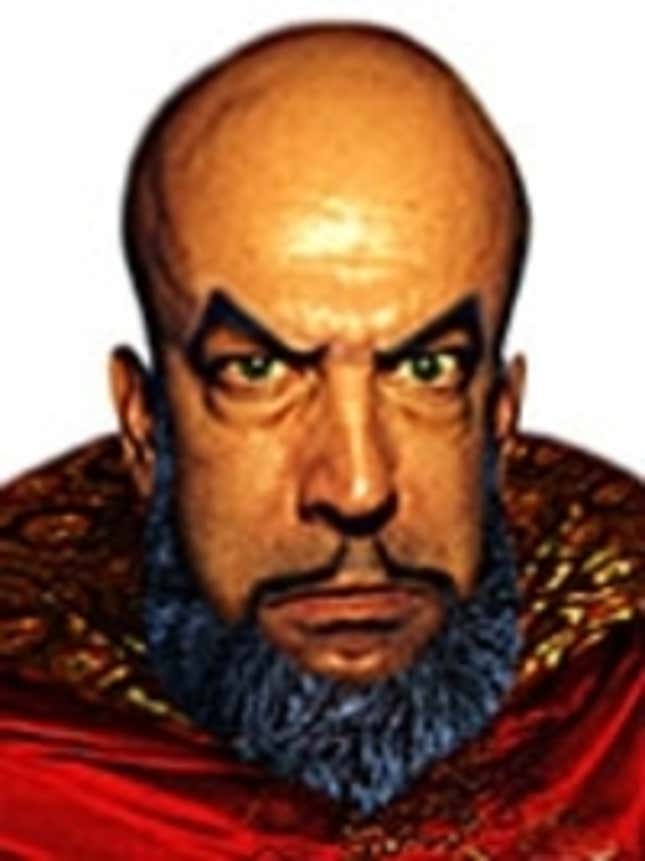 Ah, yes. I see you have captured my elusive Earthling quarry at last. Well done, guard! You have greatly pleased your master. Bring him forward at once! I wish to speak with him face to face… before his annihilation.
So! It seems we meet again, my heroic friend. Before I kill you, I must admit that you have proven to be a formidable foe—for a human. It will be bring me no small amount of pleasure to blast you into atoms, seeing how, puny as you may be, you have caused considerable inconvenience to my plan to dominate your home world.
Over the Slime Caverns of Tarmokk IV, I was sure I had you in my grasp. I would have lasered you into oblivion right then and there, had you not escaped at the last minute thanks to the treacherous Prince Kazak and his accursed Rocket Squad! But no matter. I assure you, my helpless prisoner, that not even your friends can save you now!
Silence, dog! Guard, still this impudent rebel's tongue with a blast of your atomic stun rod! Ha, ha! See how he writhes in pain at my command! Guards, increase the power flow! I want to see if this prisoner can withstand the agonies of the dreaded Level 10! Ha! Ha! Ha! Not so lively with a stun rod at your throat, eh, earthling? Guards, enough! Release him! I want the pain to linger. I want this troublesome gnat to suffer before he dies.
Fzam! Vzz-Kpowbang!
What? What?! A smuggled electro-ray pistol concealed on his person? You dare defy Gorzo, Emperor Of The Universe? Earthling vermin, you shall die for this! Your entire planet shall be my slaves! Guards! Guards! Seize him!
Seize him, you fools! He's getting away! After him, my precious robo-troopers! Hurry!
Quickly! He's heading for the detention quadrant, no doubt with the intention of freeing Princess Sultrania and his comrades from the spaceship "Gallant"! Activate the Neuro-Drain Web! Release the poisonous gas-balloon monster from Planet Xerix! He must not slip through my fingers again! Do whatever it takes, only seize him!
Fools! Seize him! Do you know what this means? If he can get his friend Professor Zircon to the central power grid, he just might be able to disable the hypno-generators and thwart our invasion of Earth! Seize him, you fools!
Are your puny minds filled with space dust? Seize the prisoner, or I will vaporize you in the same de-senso chamber in which I shall soon hold him and his pitiful friends. We must not let him escape! Gorzo commands you to seize him!
Oh, I see… You think that once you find the prisoner, he will use his barbaric fighting skills and crude Earth weaponry to cut you down like pigeons? Nonsense! You are the elite guard of Gorzo, Emperor Of The Universe! Do as I say! Seize him!
Do you hear me? Attention all robo-troopers! The earthling intruder is once again loose in the palace of Gorzo The Mighty! Seize him! Seize him! Seize him!
Gorzo The Mighty, Emperor Of The Universe, has ruled the galaxy since the mid-Earth-1930s. A longtime arch-nemesis of Crash Comet, Space Commander from the Year 2000, Gorzo is known for his willingness to sadistically blast into atoms all who defy him. His hobbies include breeding Giant Carnivorous Star Worms and wielding the awesome destructive power of his Imperial Robo-Legions. He is represented by Janine Freiberg at CAA.