IRVINE, TX—Audience members at Saturday's self-help lecture series "Success 1-2-3" were shocked to discover that professional motivational speaker Martin Vaughan was not always the well-dressed, successful man standing onstage, but was once, in fact, "just like [them]."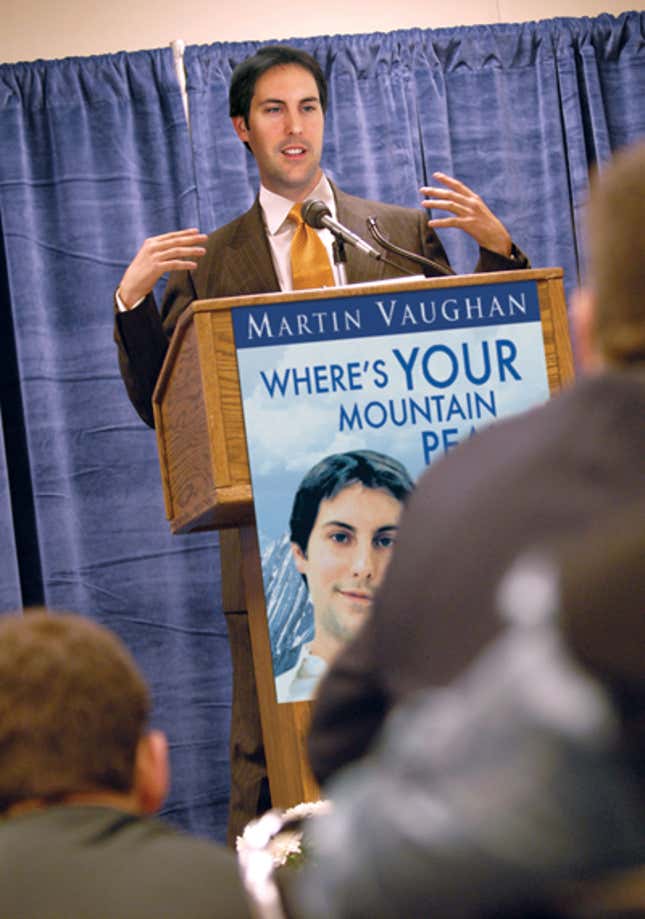 This Week's Most Viral News: September 29, 2023
"I couldn't believe it—here's this guy wearing a three-piece suit and speaking to literally hundreds of people, and I find out he was sitting in my position only six years ago," said attendee Patrick Dwyer, who admitted he was skeptical of Vaughan's claims until hearing that Vaughan was, at one time, also skeptical. "I figured I'd never have anything in common with such a confident go-getter, but then he said he used to be unhappy and unmotivated, and I thought, 'That sounds exactly like me!'"
"The only logical conclusion is that if I do everything this man tells me, I will find the same success he found," said Dwyer. "I'm going to start today!"
Vaughan made the astonishing confession only moments into his speech, surprising many in the crowd who, as Vaughan accurately predicted, were expecting "another CEO who has had everything handed to him on a silver platter." But Vaughan's admission and authoritative hand gestures convinced a majority of attendees that he was just as down-to-earth as he said he was.
"Who would have thought someone as desperate for answers as me could relate to a man who has his picture on the cover of [his] book?" said unemployed school administrator Angela Rivers, who noted that Vaughan's brief anecdote about getting frustrated at the post office made him seem "like a real person." "And how could he have known I was sick and tired of always doing the same things and achieving the same dead-end results?"
After stunning the audience with his frank and unsolicited revelation of past failures, the 42-year-old self-employed owner of a motivational-speaking company began an inspirational slide show featuring photographic proof of his newfound authority and prestige.
"Just as I was beginning to think, 'Hey, I didn't come all the way down here to see someone who's just as unsuccessful as I am,' he showed us a picture of his boat, and it was one fancy boat," said Phil DeTolve, 29, who bought his $40 ticket to Saturday's lecture before realizing today would be the day he would stop making excuses. "I thought, 'Wow! I wish there was some kind of foolproof method I could follow for setting personal goals and choosing winning strategies so that I could own a boat like that some day.' It turns out there is!"
Later in the lecture, Vaughan went so far as to risk his own position in the business world by revealing three secrets every millionaire already knows.
"Now that I know successful people make both long- and short-term personal goals, there's nothing I can't accomplish," said Joshua Dillon, 47, who was eager to read the remaining two secrets only available in Vaughan's newly released book. "To think that I could have gone through life without ever knowing that I needed to visualize my tomorrow. What a mistake that would have been!"
Dillon then removed a pad and paper from his back pocket and wrote "Maximize Time" on the first blank page.
One audience member particularly inspired by Vaughan's story was Helen Kirby, mother of three, who felt honored Vaughan would take the time to personally tailor his speech to her specifically, as someone who is "looking for that perfect job, spouse, home, or special other thing that will complete [her] life."
"I thought Martin [Vaughan] would be some kind of hard-hearted capitalist incapable of sharing the same hopes and frustrations that I do," said Kirby. "But then he explained how he went from working in a JCPenney store to having dinner once with Vivica A. Fox using his method of focused positivity, and I was beside myself: I used to have a dead-end job, and Vivica A. Fox is in several movies I've seen. He might as well be my brother!"
After the lecture concluded, the exhilarated audience members filed out of the conference room, only to be inspired once again, this time by the fact that a wildly successful motivational speaker was not too high-and-mighty to sell his own book in the hotel lobby.