SEVILLE, SPAIN—Jon Blevins, an Indiana University junior studying in Seville, has spent nearly all of his semester abroad drinking with other American college students.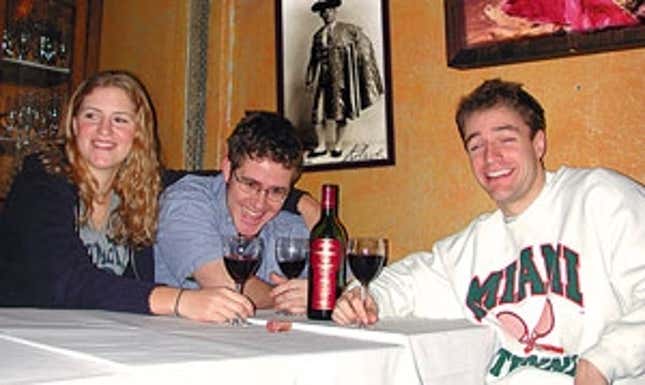 This Week's Most Viral News: September 29, 2023
"Seville is incredible," said Blevins, 19, finishing off a Cruzcampo beer at Capote Bar. "There are all these amazing cathedrals and statues and art museums. Hopefully, at some point, I'll get a chance to see some of it."
Dividing his time among classes, the Universidad de Sevilla's American dorms, and the handful of bars and clubs frequented by American students, Blevins said the opportunity to gain firsthand exposure to people from other cultures was what drew him to the ancient Andalusian city.
"I've met people from all over: a guy from Penn State, these two Sig Ep brothers from the University of Oregon, and some really cool people from Clemson," said Blevins, a political-science major who is taking eight credits at the Universidad de Sevilla. "And I was worried I wouldn't fit in."
Added Blevins: "The program I'm in is actually done through Florida State, so I've also met a lot of FSU chicks, who are really hot."
Blevins, who said Seville is "in the Moor part of Spain," has not visited such landmarks as the Catedral, the largest Gothic edifice ever constructed, or the Museo Provincial des Bellas Artes, a museum in a former convent which houses works by Murillo, Ribera, and El Greco. He has, however, made three trips to the American Club, "this great bar near campus where they've got Dave Matthews on the jukebox and Sam Adams on tap."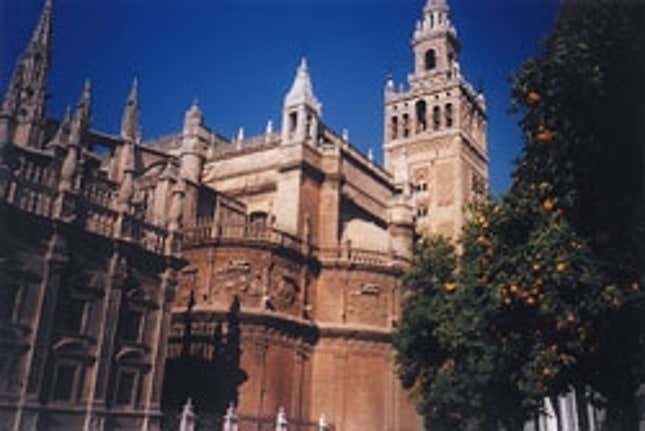 Before leaving for Spain on Jan. 6, Blevins was concerned that his inability to speak Spanish would make negotiating the country difficult. Blevins' worries, however, were quickly assuaged.
"You can totally get by without knowing Spanish in Seville," Blevins said. "It's a really international city, and most of the locals speak English. Plus, a few days after I got there, I hooked up with these guys from Emory University on my dorm floor who all knew Spanish. So I was pretty much set."
Blevins said he looks forward to gaining a taste of authentic Sevillian culture during the upcoming Semana Santa festival, an annual Holy Week celebration renowned for its religious significance and throngs of drunken tourists.
"That's gonna be seriously off the hook," Blevins said. "We're talking non-stop Cuervo."
Though he has spent a majority of his time in Seville, Blevins has made sure not to limit his cultural exposure to that city alone.
"A bunch of us from the dorm took a weekend trip to Cordoba, which isn't too far away," Blevins said. "It wound up being pretty similar to Seville, with all these orange trees and churches and stuff, but it was still pretty cool. Me and Pete and Chris, these two Ohio State guys I went with, met up with a bunch of their friends from school who happened to be there on winter break. They'd just come from Barcelona and told us all about the scene there. Then we all went to Granada and checked out this nightclub opened by this other guy they all knew. It was cool: They had pretty good paella there, but otherwise it was pretty much just like any bar back in Bloomington."
In spite of the challenges and difficulties that studying in a foreign land has presented, Blevins said he "wouldn't have missed it for anything."
"Sure, it's weird taking classes from someone who barely speaks English," Blevins said. "And you wouldn't believe what a Jack and Coke costs in Seville. But I've had some really unique experiences. I'll never forget it."
Added Blevins: "Last weekend, I even met a guy from my hometown. Just goes to show you what a small world it really is."