WASHINGTON, DC—U.S. Sen. Russ Feingold (D-WI) was forced to find an alternate means of transportation to work Monday, because his Senate carpool once again "forgot" to pick him up.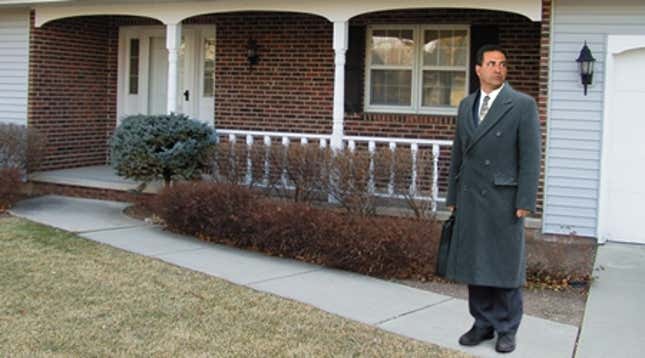 This Week's Most Viral News: September 29, 2023
"Did we forget Feingold again?" Sen. Lisa Murkowski (R-AK) asked. "Gee, I don't know how that happened. I guess we were running late and just flaked on it. Hmm, same thing happened last week."
Feingold and Murkowski, along with senators Chuck Hagel (R-NE), Bill Nelson (D-FL), and Dick Durbin (D-IL), comprise the ride-sharing carpool formed three years ago to split the costs of commuting and reduce fuel waste and air pollution.
Monday marks the fourth time this month that the Wisconsin senator has been left behind. Feingold's wife Mary had to drive him to the Capitol, where he arrived with just enough time to make roll call. Feingold said it was "not the way I like to start a morning."
"Did we leave old Rusty behind?" asked Hagel, unable to suppress a giggle. "That's a shame. Tell Rusty we're sorry about that. It won't happen again, on my word as a U.S. senator. Tell Rusty that, too."
According to Feingold, last Thursday after work, Hagel pulled away without him. Feingold ran after the car for almost a block before the loss of a shoe forced him to stop.
For some reason, Feingold has never been left behind on a payday, when carpool members each chip in $53 for their shared spot in the Senate reserved parking lot.
"Look, none of us are out to get Rusty," Nelson said. "That's just silly. We get out on the road, we're going, we're doing our thing, and it feels like everyone's in the car. The next thing we know, someone says, 'Oopsie, where's Feingold? Did we forget him again?'"
According to Feingold, other carpool members get out of the car when they reach his house, tacitly forcing him to sit in the middle of the backseat, rather than simply letting him slide in. Feingold also said he rarely gets to choose the radio station for the morning drive, despite having politely voiced his dislike for Fred Grandy and Andy Parks' WMAL Morning Show several months ago. In addition, rather than allowing Feingold to wait inside his house, the group insists that he wait outside on the sidewalk in the morning, in order to save time.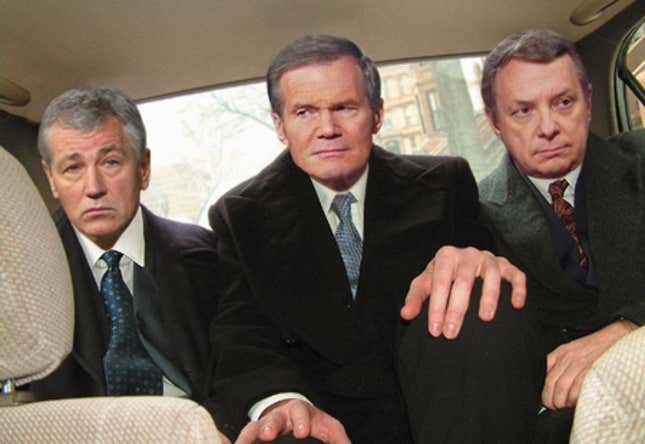 "I don't think Russ minds getting some fresh air in the morning," Durbin said. "He's certainly never said anything about it, if he does."
Feingold said he found the group's habit of excluding him from breakfast get-togethers to be the most personally hurtful of the slights.
"They always stop for something before they pick me up, even though there are a bunch of places between my house and work," Feingold said. "When I ask them if they went somewhere together, they always say no, but one time they were all holding identical to-go cups from Krispy Kreme."
According to Feingold, the carpool has excluded him from after-work get-togethers, as well. In November, just as the group was dropping Feingold off one evening, Durbin "suddenly remembered" that he needed to pick up a prescription at the drugstore near the Capitol, and the group headed off in that direction. The next day, Feingold said his carpool members appeared to be hungover and kept talking about the music at the Chi-Cha Lounge.
Although the other senators characterized him as "overly sensitive," Feingold said he has "just about had it."
"They think I'm oblivious to the fact that they don't like me," Feingold said. "Well, guess what? I don't like them, either. I think they're all stupid. If I weren't so committed to conserving energy, I'd tell them all to take a flying leap."
One Beltway insider noted that Feingold's current carpool is the senator's third in the past five years.
"I was carpooling with Russ in '98," Ron Wyden (D-OR) said. "Everyone else wanted to have a nice relaxing ride in, but Feingold would start up on campaign finance reform the second his seatbelt clicked. That guy would not shut up for a second."